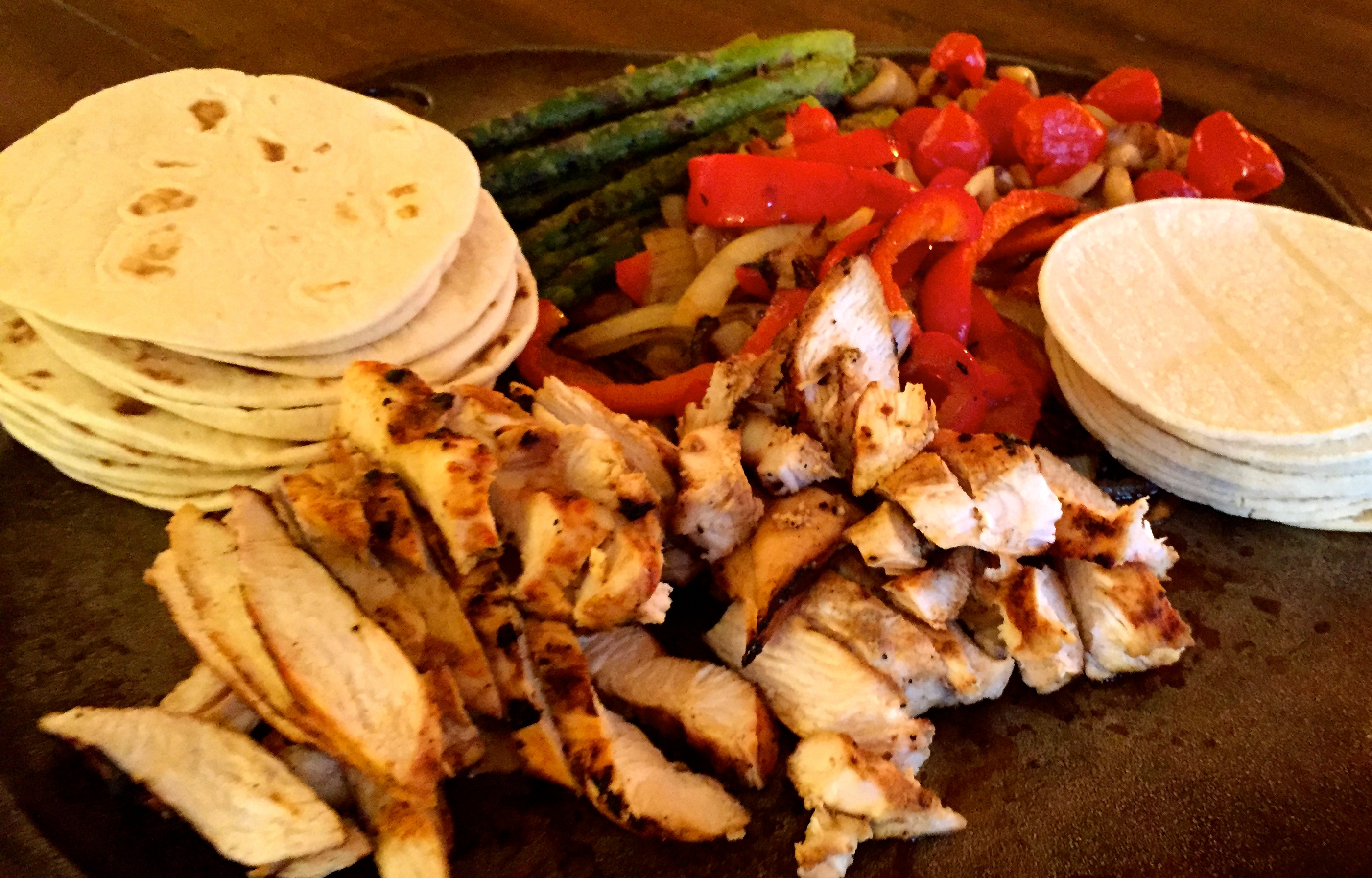 During the summer, Boar's household has taco night pretty often because its fun, festive, frugal and flavorful —say that a few times fast! Here's an example of taco night —Convivial Boar style (As an aside, these tacos were made during the time that I borrowed my neighbor's PK 360. For a recap on that adventure click on Pepper-Bacon-Vidalia-Burgers; Turkey Talk; and Fourth of July Tower of Pork).
Grilled Chicken and Asparagus Tacos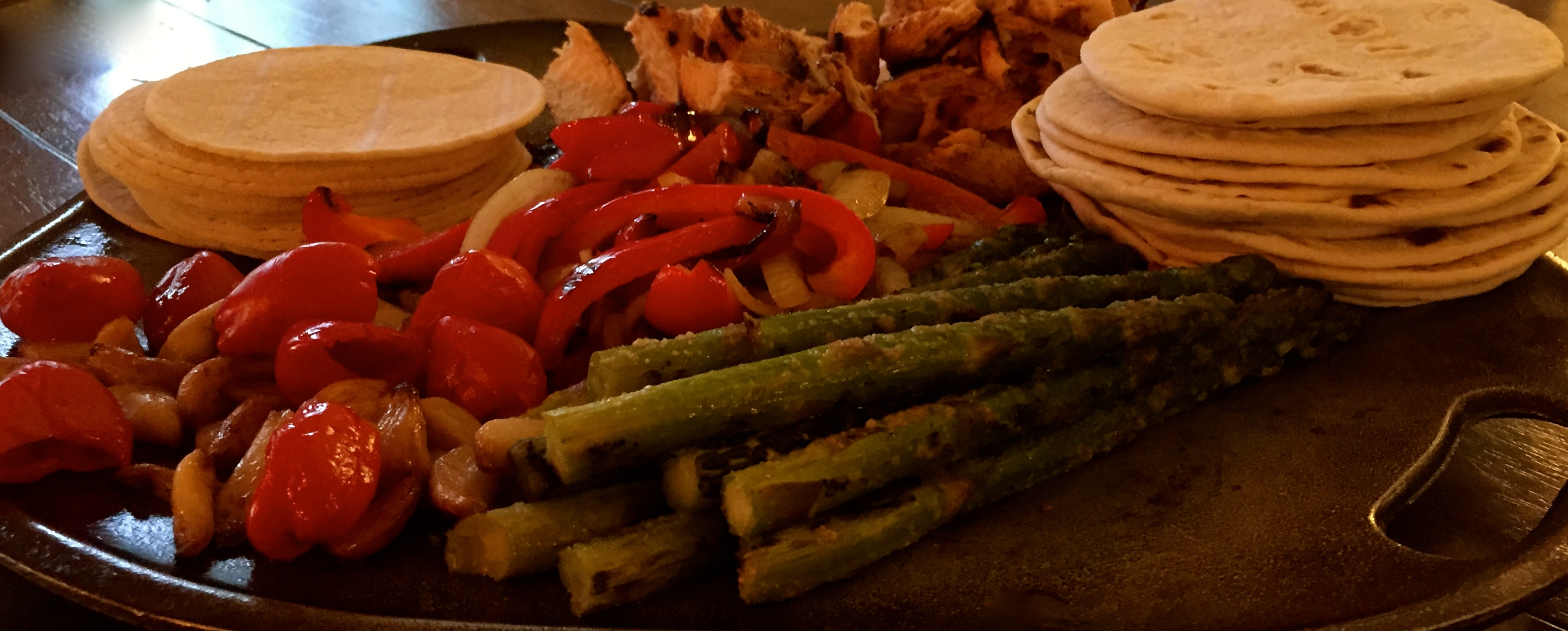 Ingredients:
Boneless Chicken Breast
Marinade for Chicken: garlic (chopped), onion (chopped), olive oil, kosher salt, black pepper, white vinegar, cumin, and smoked paprika
Asparagus
Roasted Garlic
Red Sweet Peppers (whole)
Onion (sliced)
Red Bell Pepper (sliced)
Tortillas (flour and corn for my crew)
Plan:
Marinate the chicken in the refrigerator for at least two hours (overnight works good too).
Prepare the asparagus for grilling by washing and breaking off the woody ends. Next, blanch them by placing them in a sauce pan with enough salt water to cover. Allow the salt water to come to a boil and cook the asparagus for three minutes. Remove the asparagus from the boiling water and place in an ice bath to stop the cooking process. Once the asparagus is cool, coat with olive oil and season generously with sea salt, and black pepper.
Prepare the grill with lump charcoal on one side of the grill so that one zone will be for direct grilling and the other zone for indirect grilling. Need a refresher on building a feast-making fire click "here."
Remove the chicken from the marinade a few minutes before grilling and using a paper towel wipe off any excess marinade.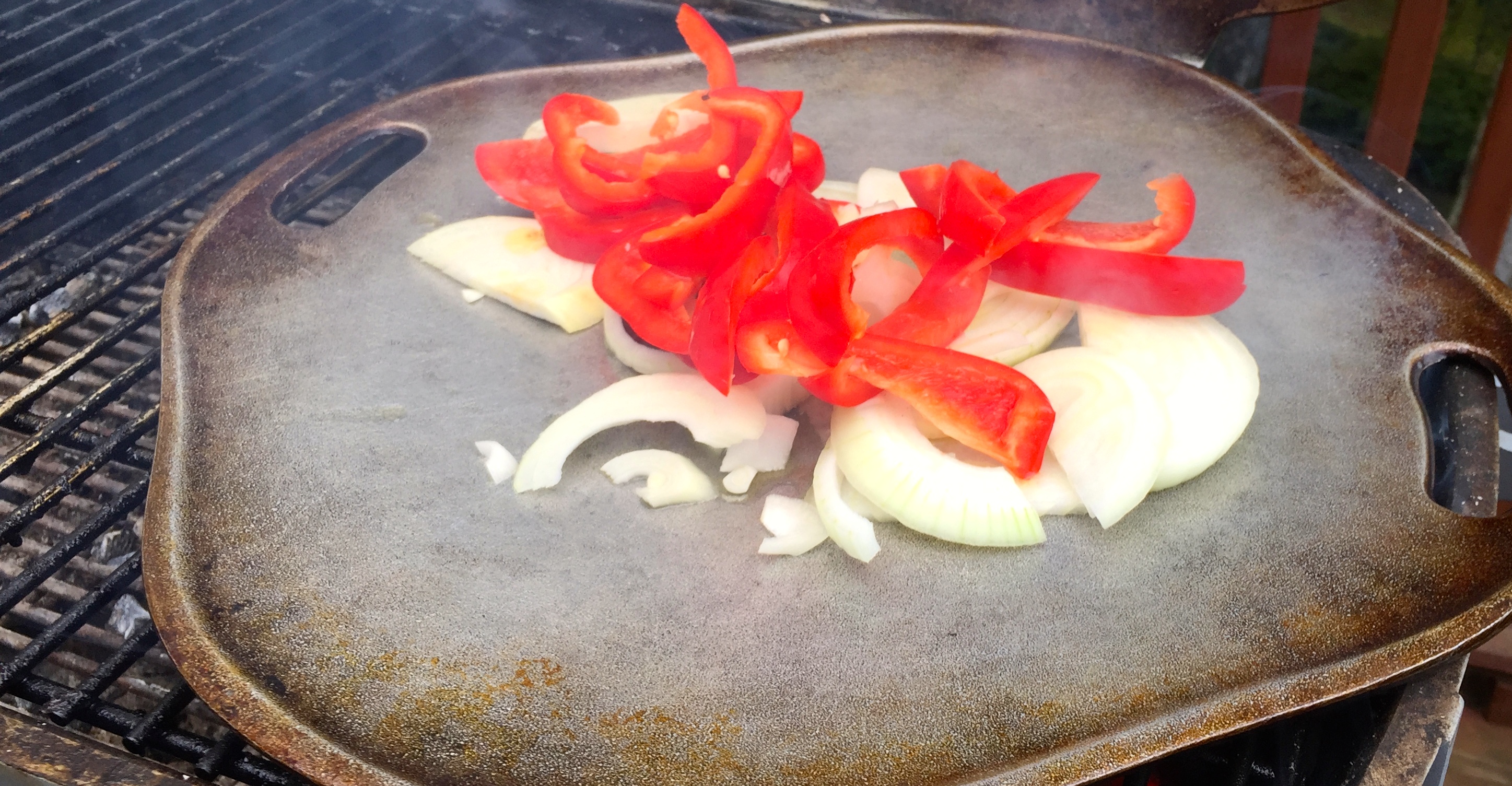 Using a grill pan over direct heat, (Note: the Blue Moon Disk Pan would work perfectly for this creation), sauté the sliced onions and peppers in a small amount of olive oil. Once the onions and peppers soften and begin to brown (5 to 10 minutes) move the grill pan to the indirect heat zone of the grill.

Place the chicken on the grill directly over the coals. Grill until the chicken is charred and cooked through (3 to 6 minutes per side). Place the chicken on the grill pan.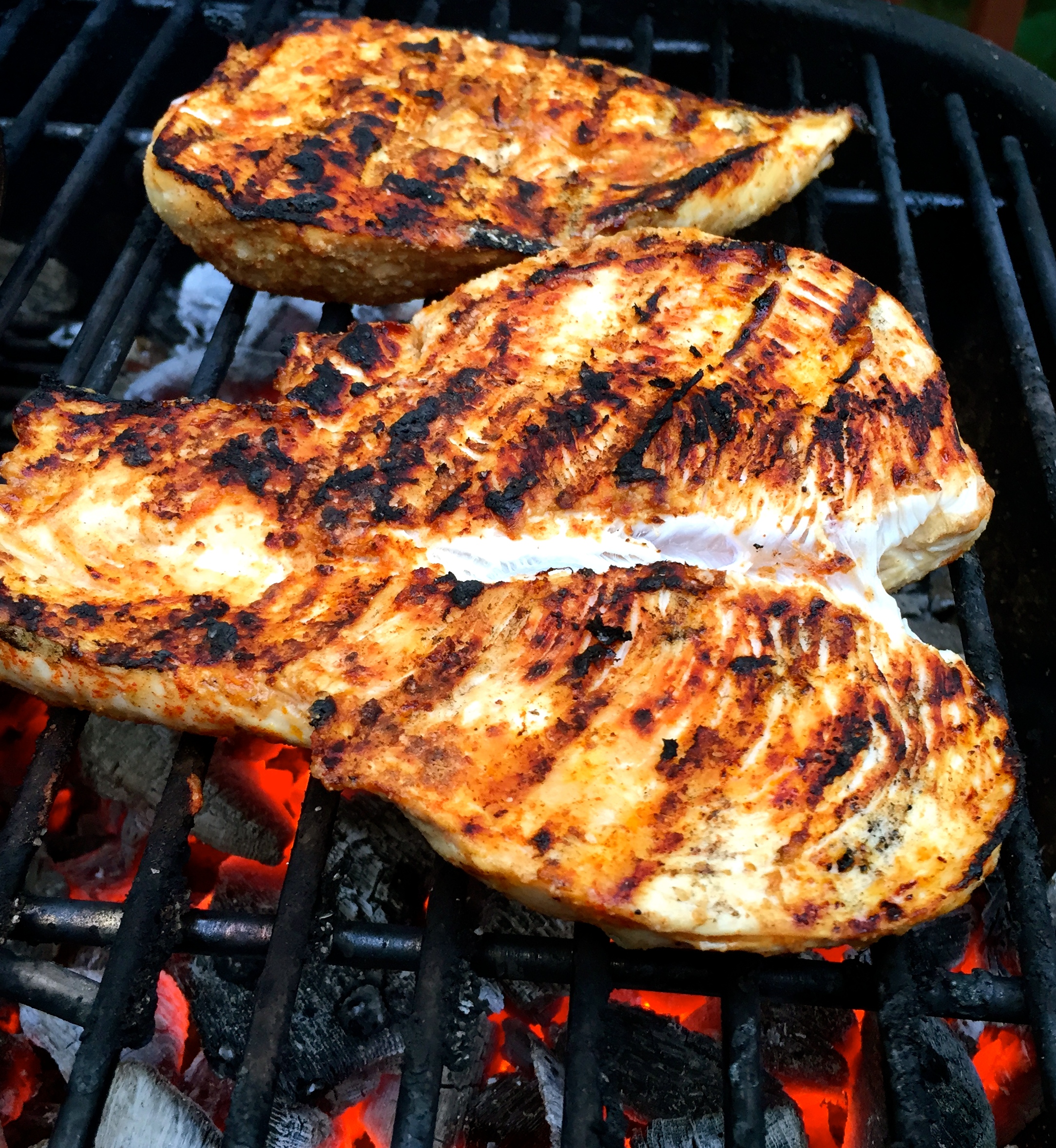 Char the asparagus by placing it on the grill grate directly over the hot coals. Be careful to lay the asparagus perpendicular to the grill grate to avoid losing them to the fire.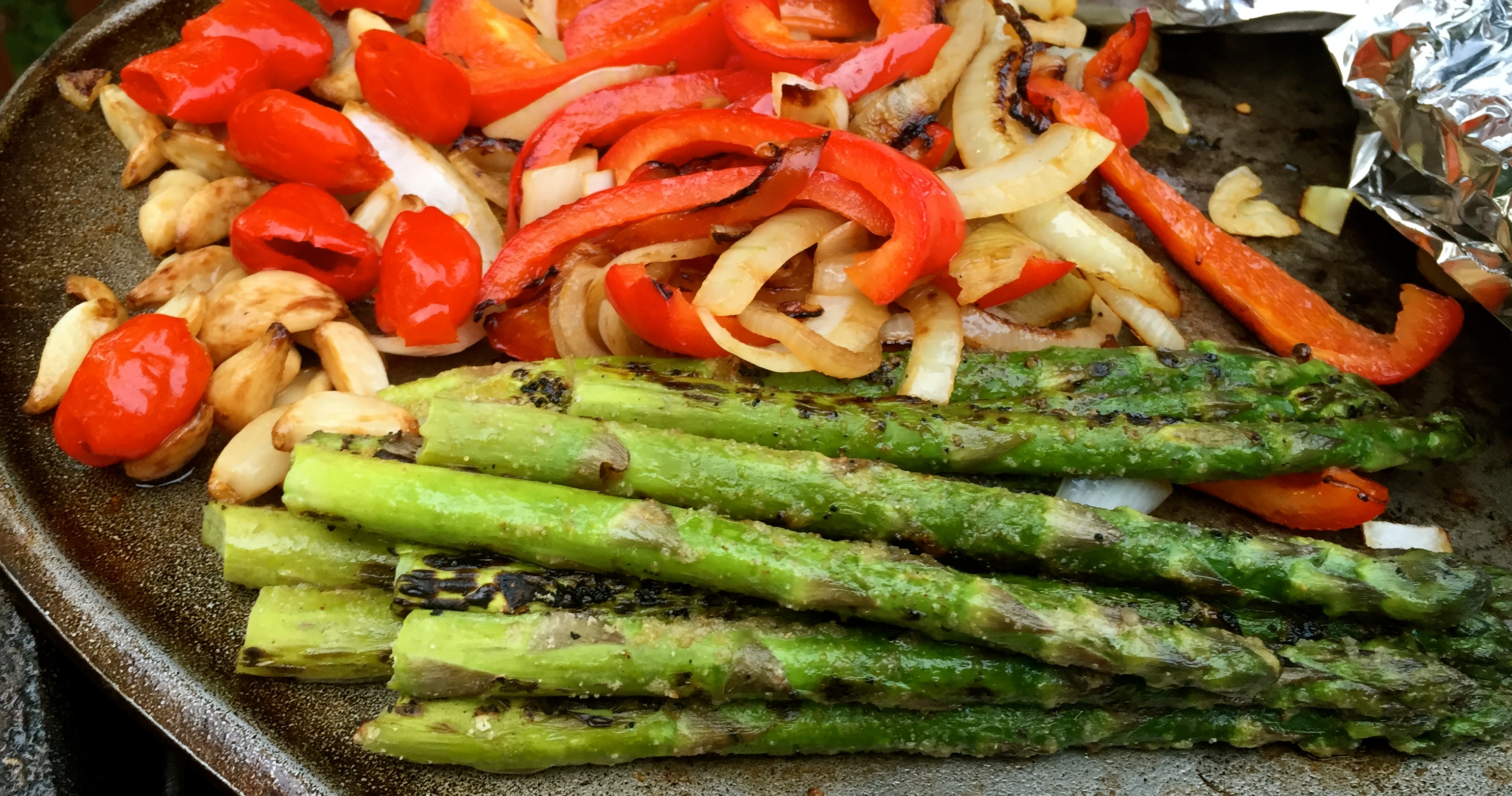 Wrap the tortillas in aluminum foil and place them on the grill (indirect heat) to warm (about 10 minutes). Add the roasted garlic and whole sweet peppers to the grill pan.
Don't forget the grill works better when the chef has a proper libation.  May I suggest a crisp cold white wine for this creation.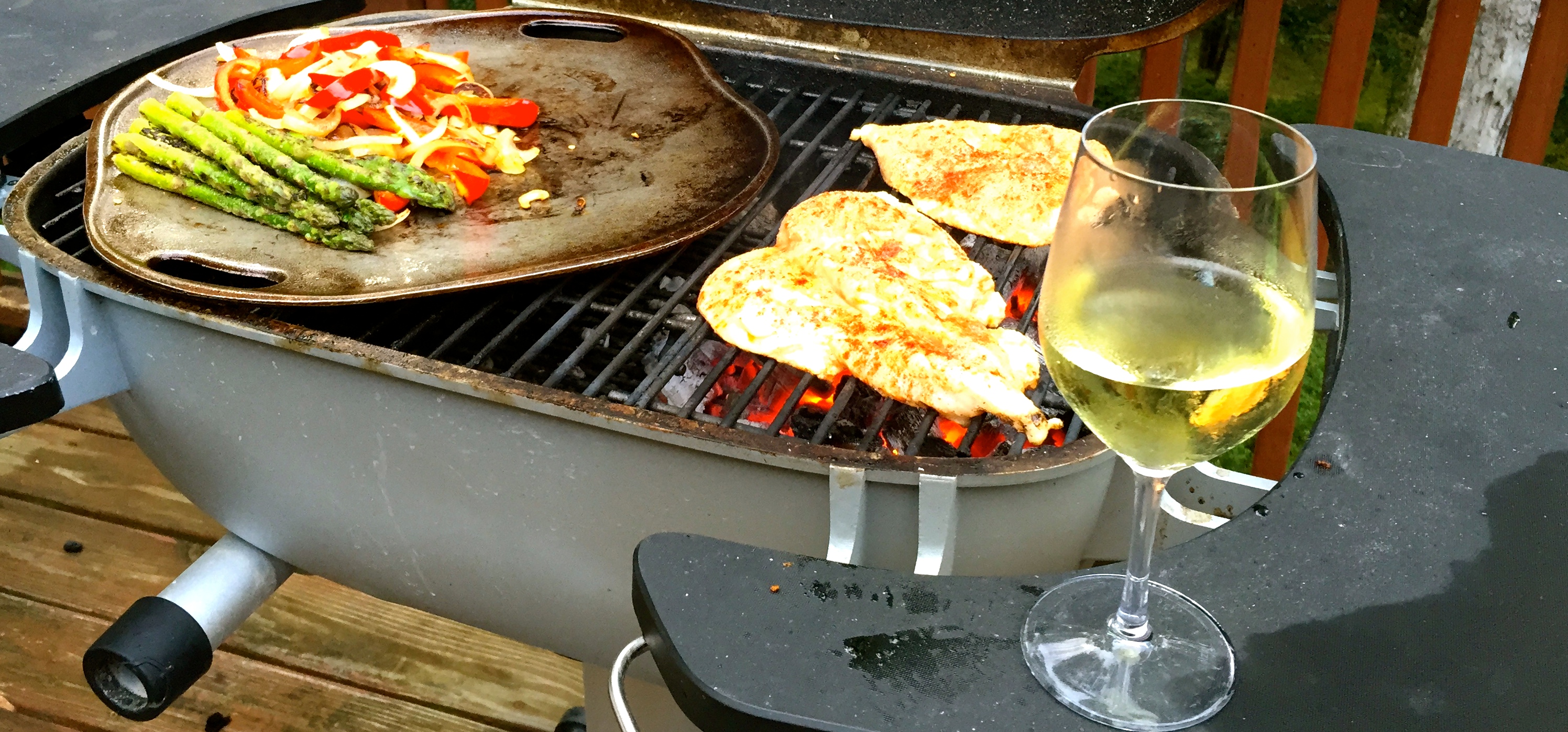 Slice the chicken thinly and let the feasting begin!
Enjoy a summer taco night, my friend.