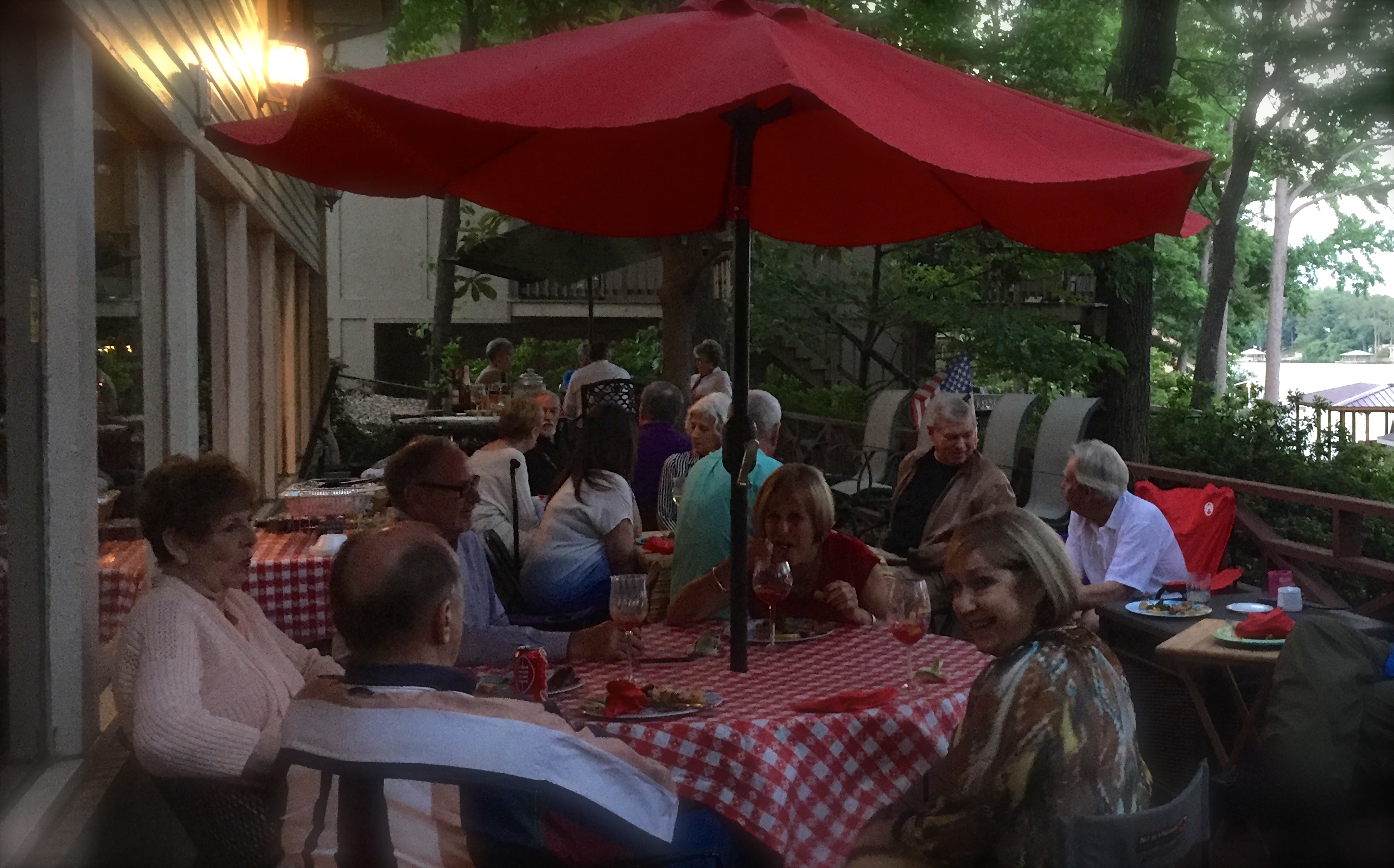 As summer comes to a close, my mind drifts to an early lakeside summer feast.  Mr. Al, a longtime friend of the Boar—and no stranger to pan and fire, himself—generously purchased a paella feast donated by the Boar to the non-profit, Group Living.   You know how the Boar relishes the opportunity to create for a cause.  For more information about Group Living click "here."
The stage was set and the party roared on the shores of Lake Hamilton.
Few feasting creations can match the seduction and flair of paella,  as a storied chef and sensational writer once modestly captured…
tradition, unique pan, and fire…
Paella is a traditional rice dish of Spain —and the fact that it is typically prepared outdoors over an open fire in a large pan makes it an excellent feasting-food. The name of the dish comes from the special pan in which it is prepared. A paella pan is a large flat pan with short sides typically made of carbon steel (though other types exist).
aromatic, complex and unique flavor foundation…
The foundation (and many say the secret) of good paella (as with many Spanish dishes) is sofrito. While many variations exist, sofrito is an aromatic sauce made with tomatoes (typically grated or pureed), onions, and garlic (sometimes herbs and peppers are added). Sofrito infuses the paella (and nearby feast-watchers) with aroma and depth. The word sofrito means "gently fried." To prepare sofrito for paella, the tomato, onion and garlic are slowly sautéed in olive oil —typically after meats have been browned in the oil creating a complex and unique flavor profile.
seductive essence…
Since the time of Cleopatra saffron has enjoyed a mystic allure as a seductive and powerful essence. Today, saffron is known as the Queen of Spices and is the most expensive spice (price estimates for one pound exceed $1,500 —no wonder it is sold by the gram). Luckily, a little goes a long way. For paella saffron is dissolved in the broths to add color, flavor and allure.
Who among us wouldn't want to join into that feast?  And that writing –oh my.
And here's the story of Mr. Al's lakeside paella feast:
Featured in the paella are chicken legs and thighs, chorizo sausage, and shrimp. We start by sautéing the chicken, which had been marinated overnight in in Spanish seasonings.  For more details about the preparation of Paella click "here."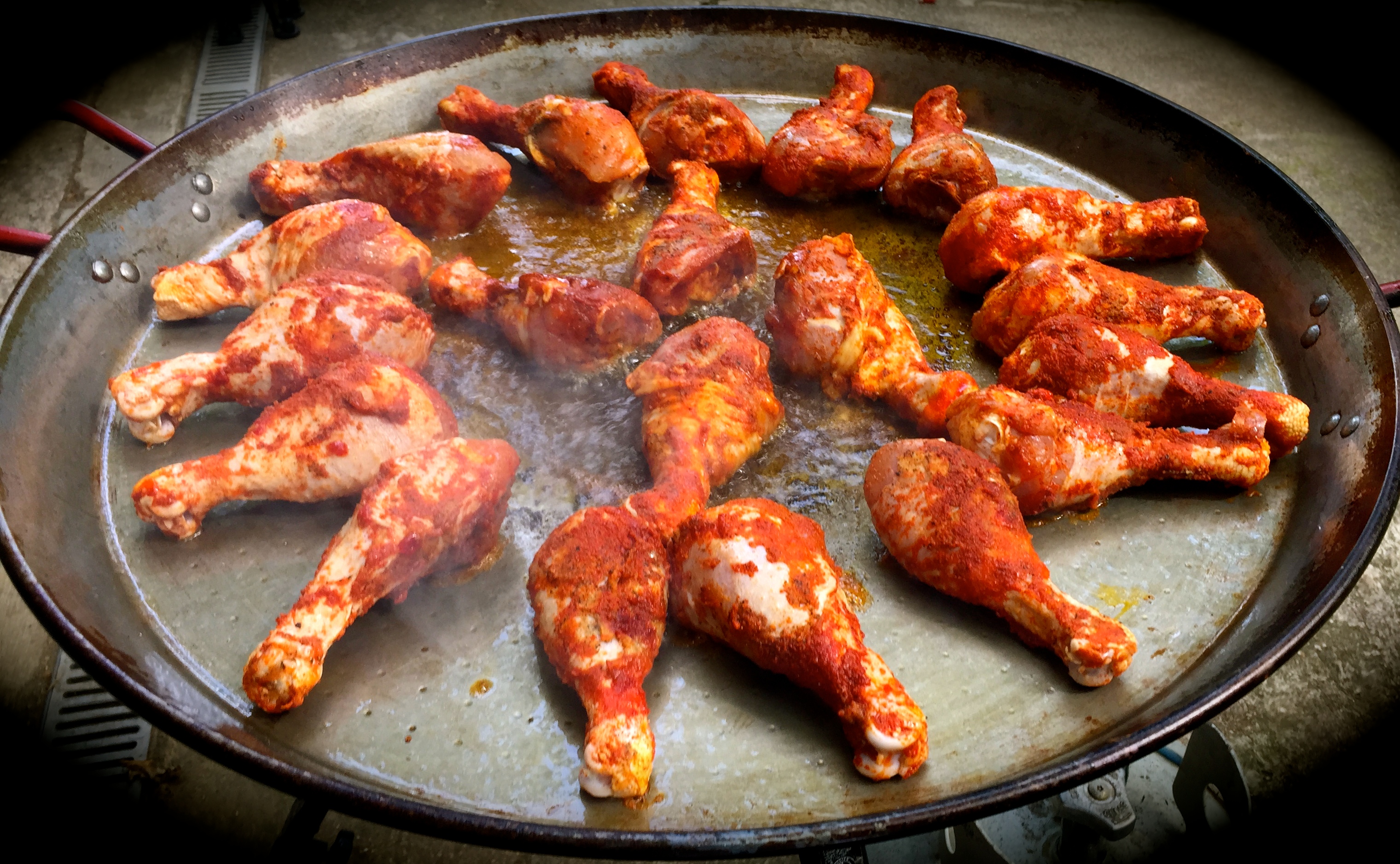 It helps if your chicken has a view while it fries…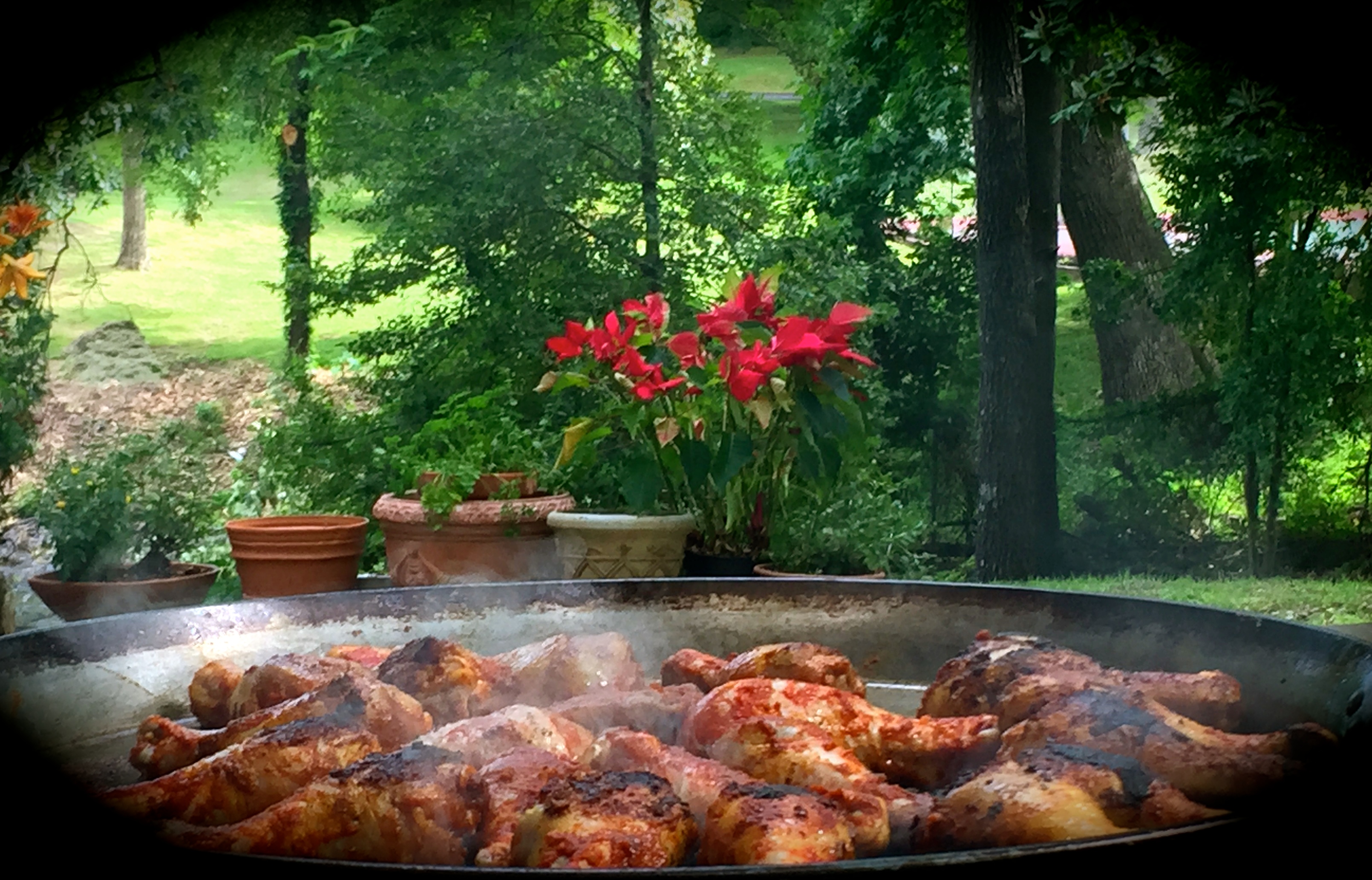 Next, we move to the chorizo…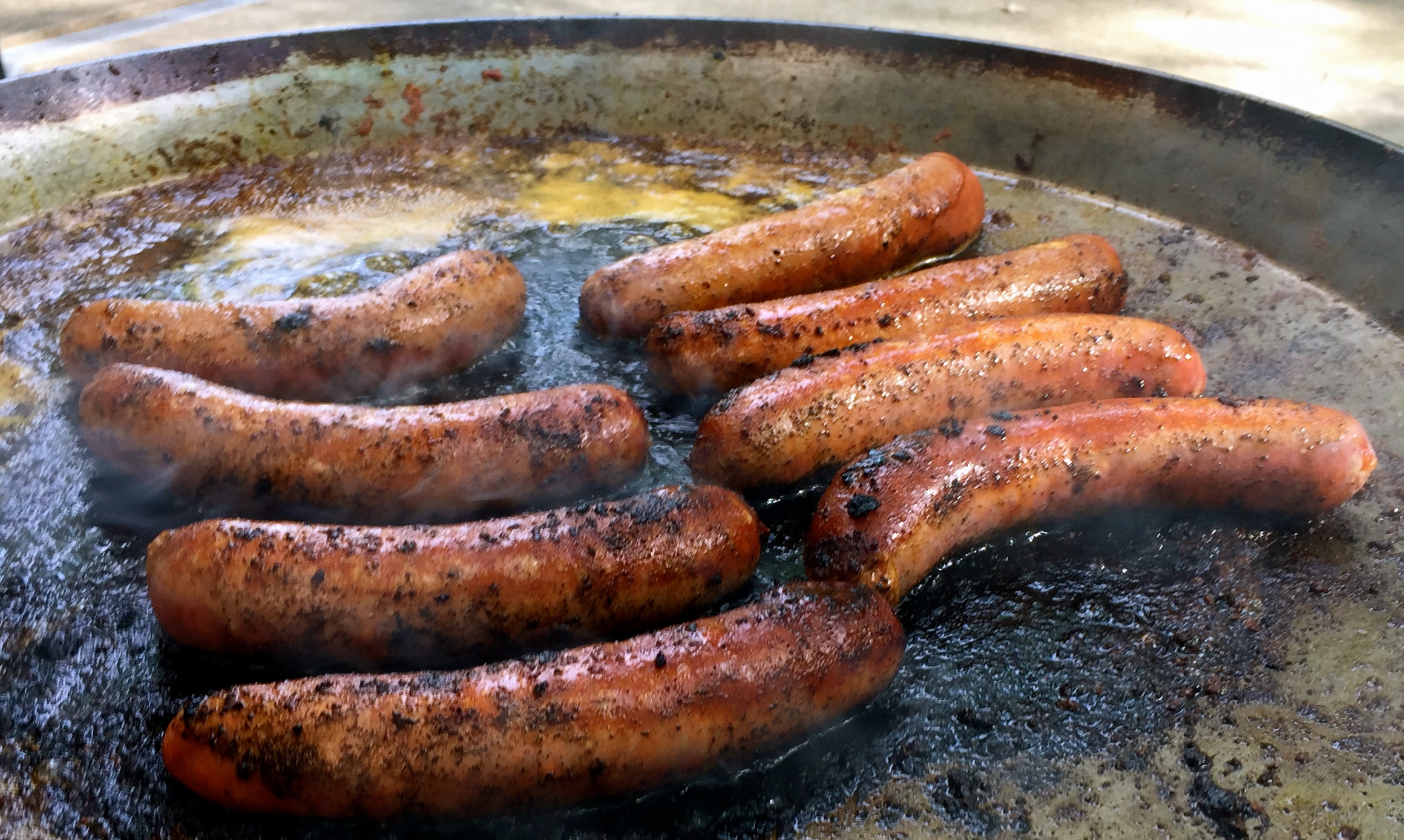 How about a few vegetables…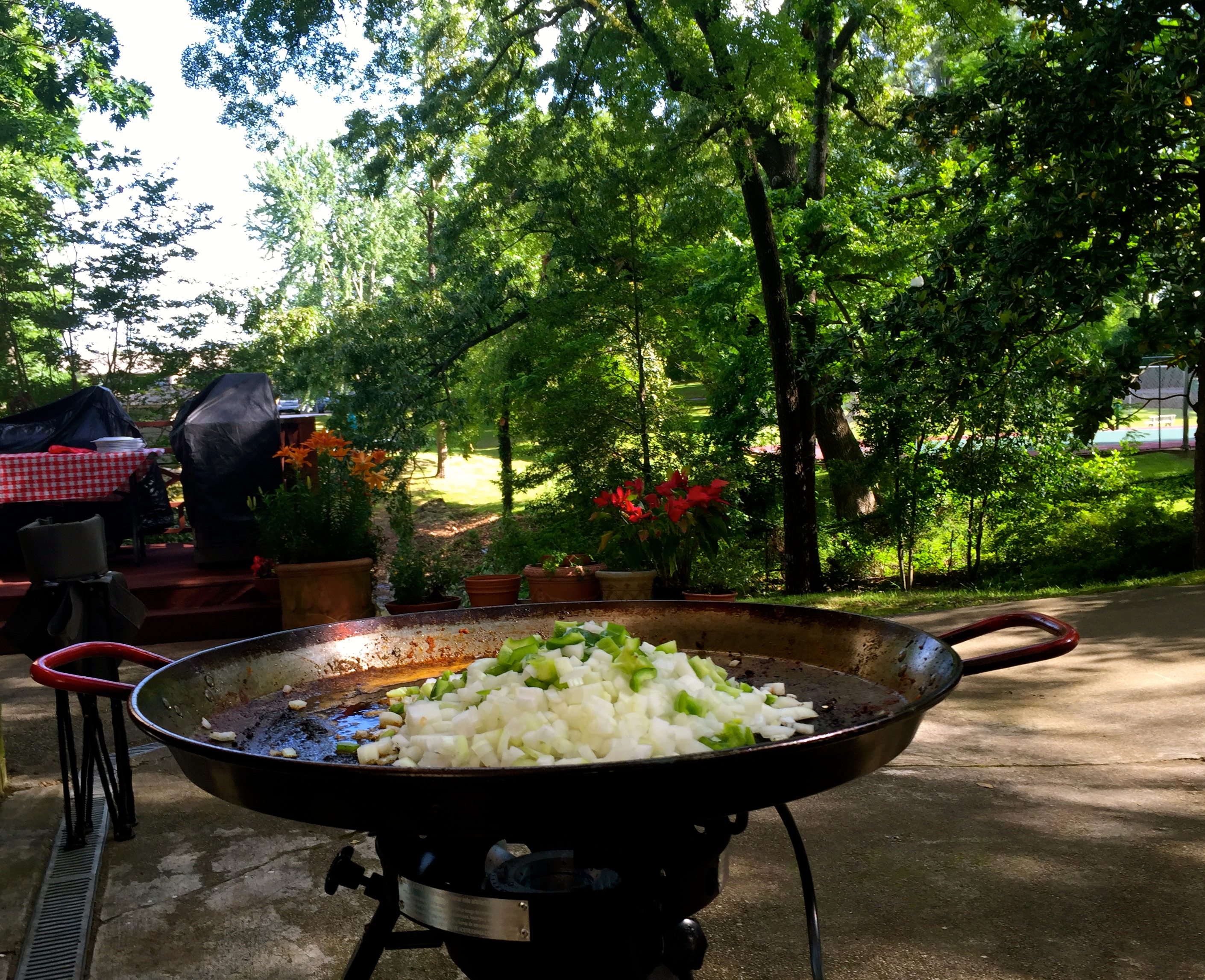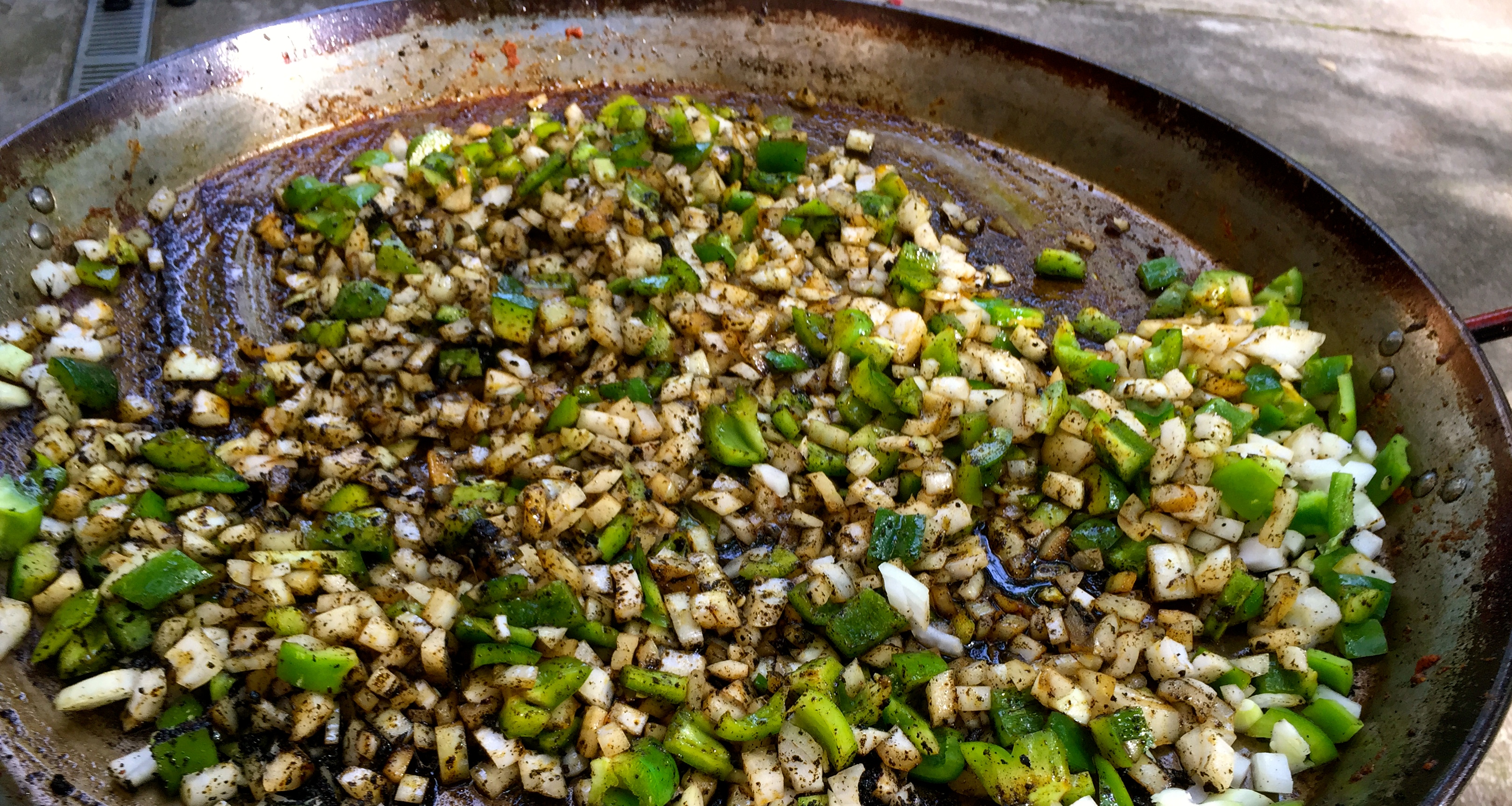 And now for the aromatic Sofrito…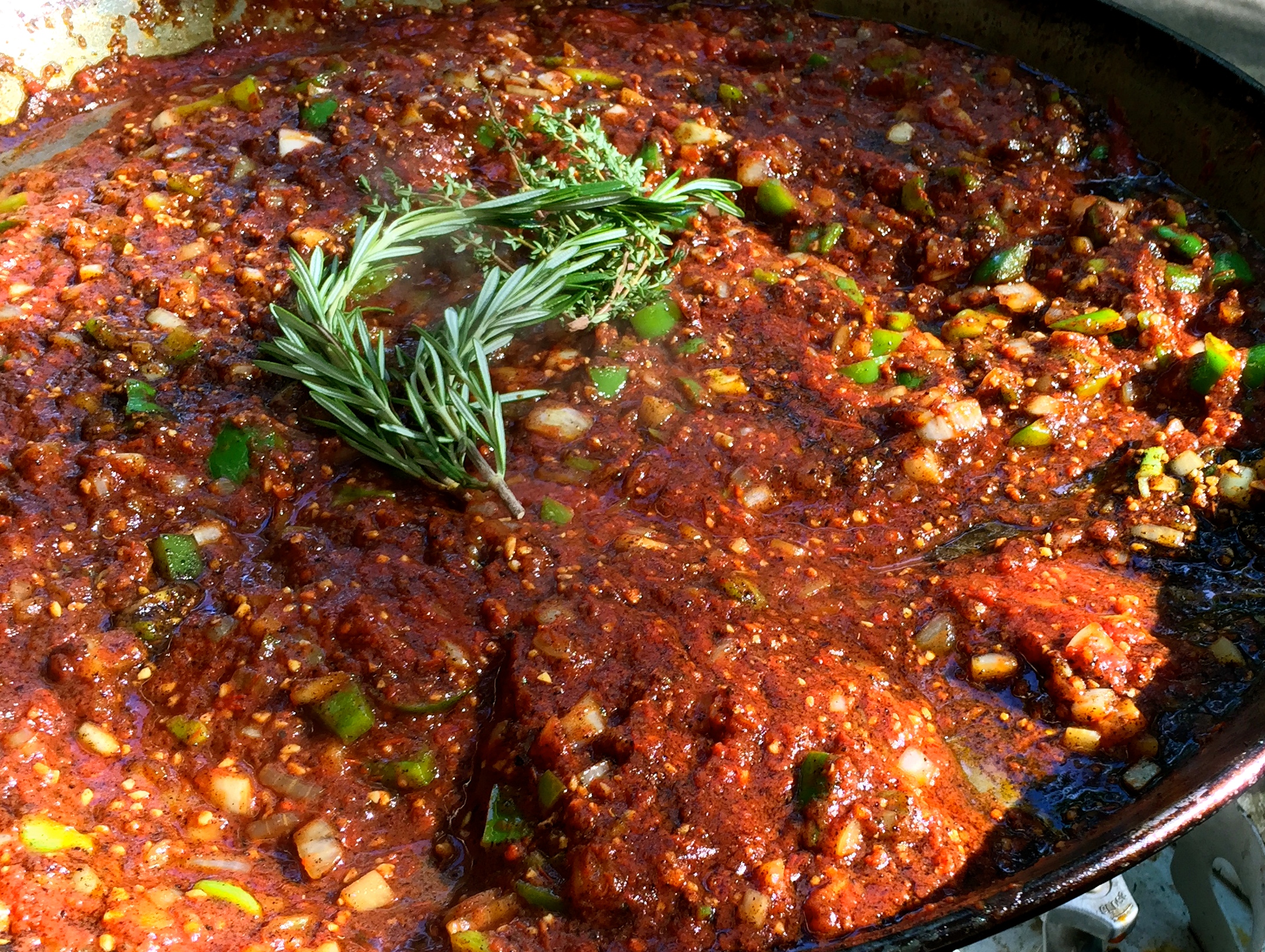 Anticipation grows as we add the seductive saffron infused broth…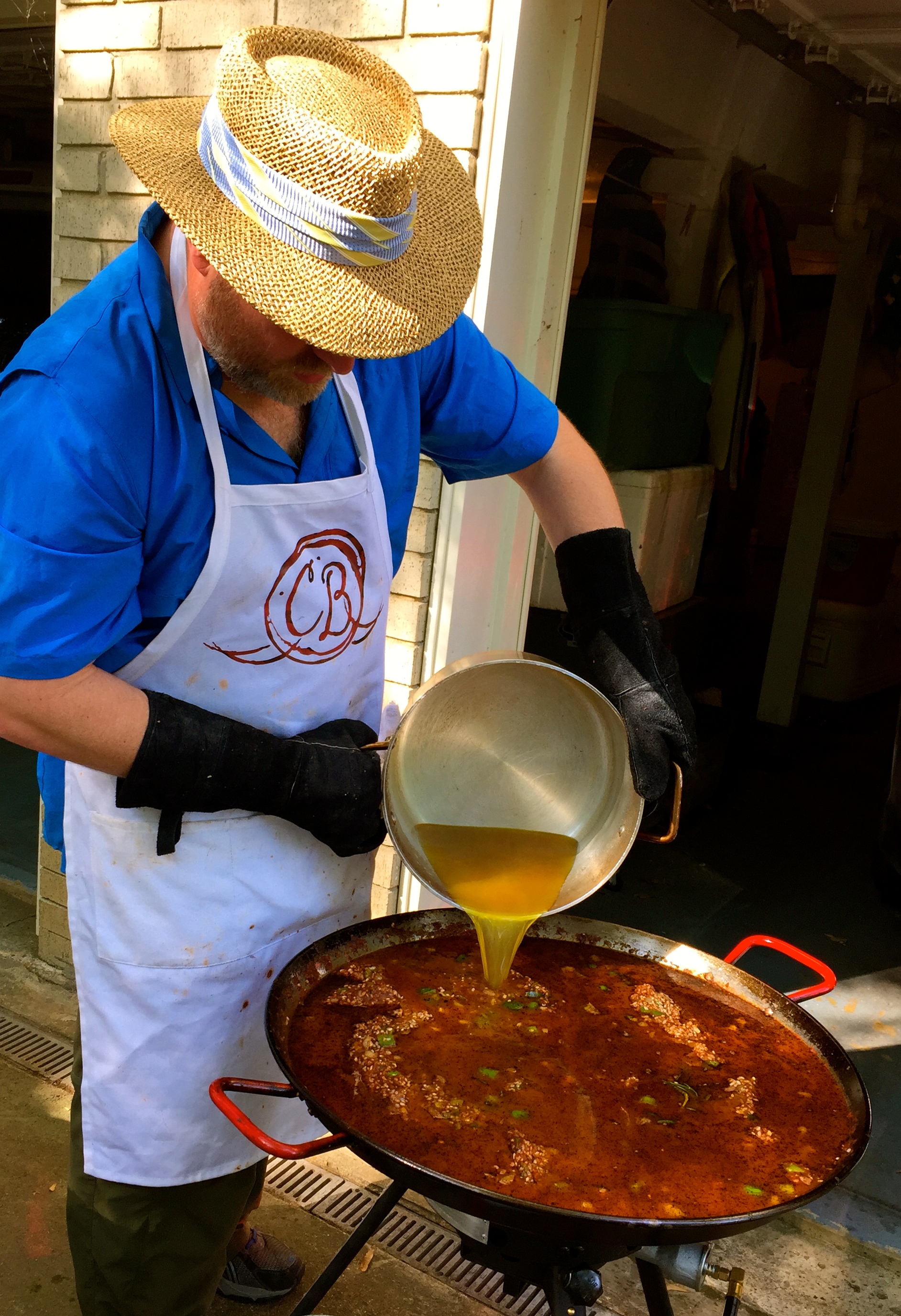 We put it all back in the pan…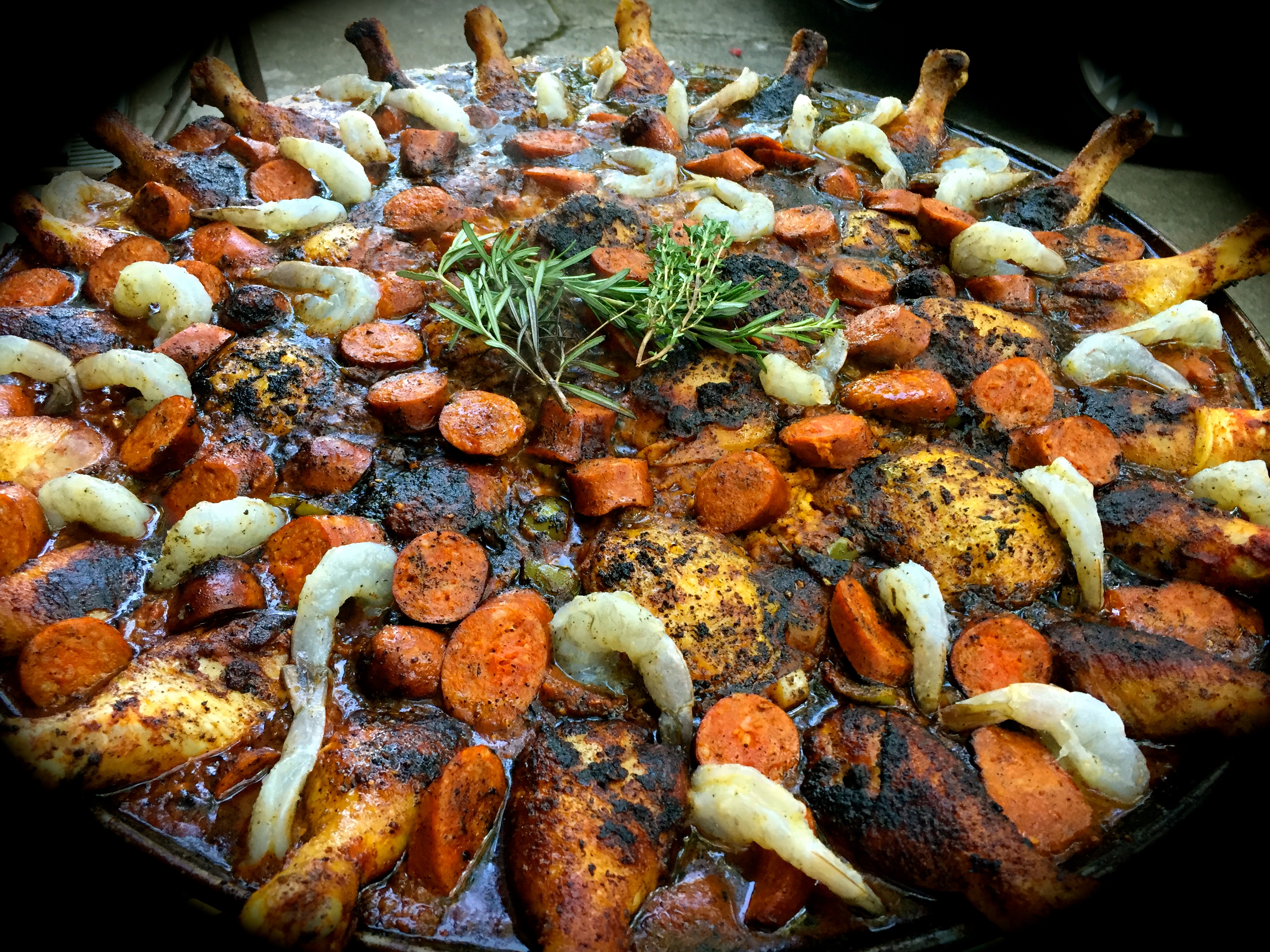 It comes together with a flourish…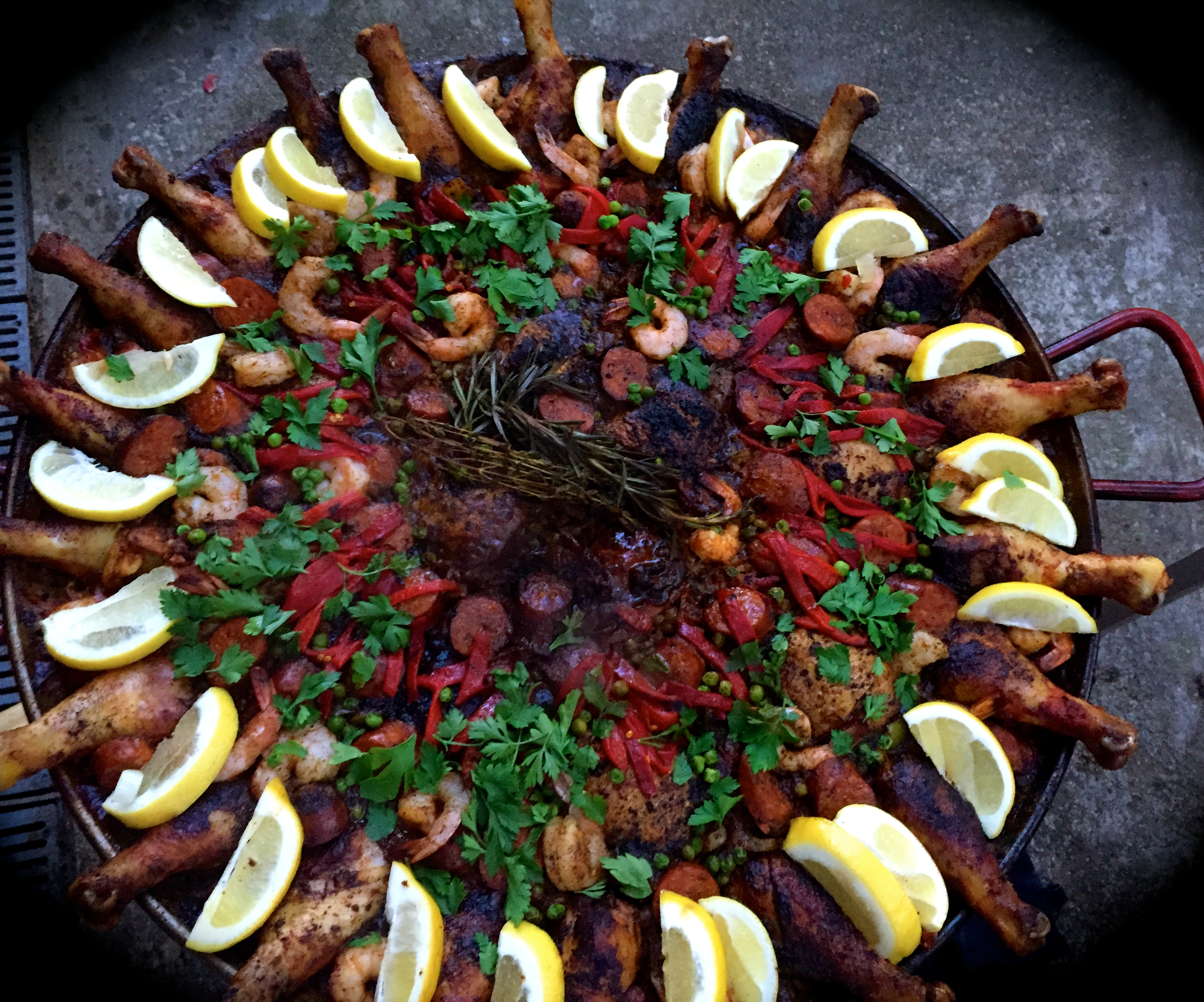 Let your mind drift to a summer feast, my friend.