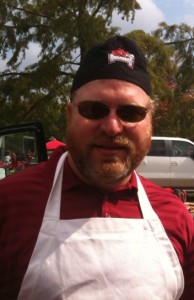 I believe in food. My earliest memories are dominated by food —even the stories that my family tells about me as a baby most often involve food. Of course, it seems only natural as I am descended from the South Arkansas Goddess of Food, Big Mama!
My life's intersection with Big Mama's was brief but impactful. Try as I might, I cannot conjure a single real memory of her, for I only know her through stories.
I'm led to believe that her name captured her spirit more than her physique: a tiny woman whose presence filled the room. And, she loved to cook. Nobody ever stopped by without receiving a proper meal.  She was not one to say "if I had known you were coming, I would have baked a cake,"  instead she would holler as she passed through the back door,  "you keep talking whilst I gather some eggs for the batter."  I never heard a story where she "offered" to cook or "invited" folks over for a meal, rather it was more in the form of a common-place statement, "you'll stay for supper."  But I also never got the impression that anyone would have turned her down, either.
She was ahead of her time with the "farm to table" trend. When guests arrived at her house, supper was often still scurrying about in the yard.  Imagine, answering the door, greeting guests, and then politely excusing yourself to wring a chicken's neck for a pot of dumplings. That's the legend of my great-grandmother, Big Mama —and her spirit courses through my veins.
Only my passion doesn't end with the cooking or food —I'm fond of drink, cigars and raucous storytelling, too. My inner most yearning is to devour life's moments and savor their essence. Shall we feast?
I am the Feast-Maker known as The Convivial Boar, and this is my blog, Marrow & Nectar.
Feast, my friend, feast!