It's that time of year again where we need soothing, indulgent, comfort food.  In previous posts we have discussed the spontaneous indulgent comfort and broth aromatherapy.  Now, Daughter-of-Boar joins me in the kitchen to create her version of indulgent comfort, featuring: crepes, cheese, and cream —more of a luxurious comfort, my friend.
Spinach and Cheese Stuffed Manicotti in Alfredo Sauce
Ingredients:
Crepes
Eggs (6)
All Purpose Flour (2 cups)
Kosher Salt (pinch)
Milk (1 cup)
Water (1 cup)
Butter (for greasing pan)
Filling
Ricotta Cheese (15 oz)
Parmigiano-Reggiano Cheese (about half a cup, grated)
Fresh Baby Spinach (about two cups, chopped)
Italian Parsley (about a cup)
Two Eggs
Kosher Salt (a pinch)
Black Pepper (to taste)
Nutmeg (to taste)
Prepared Cream Sauce (like Alfredo)
Plan:
I have always thought that manicotti was a pasta dish, but in helping Daughter-of-Boar prepare for this creation, I learned that traditional manicotti is made with small crepes.  And believe me preparing these homemade crepes is worth the effort as they are far superior to the dry tube-shaped pasta labeled (albeit erroneously) "manicotti."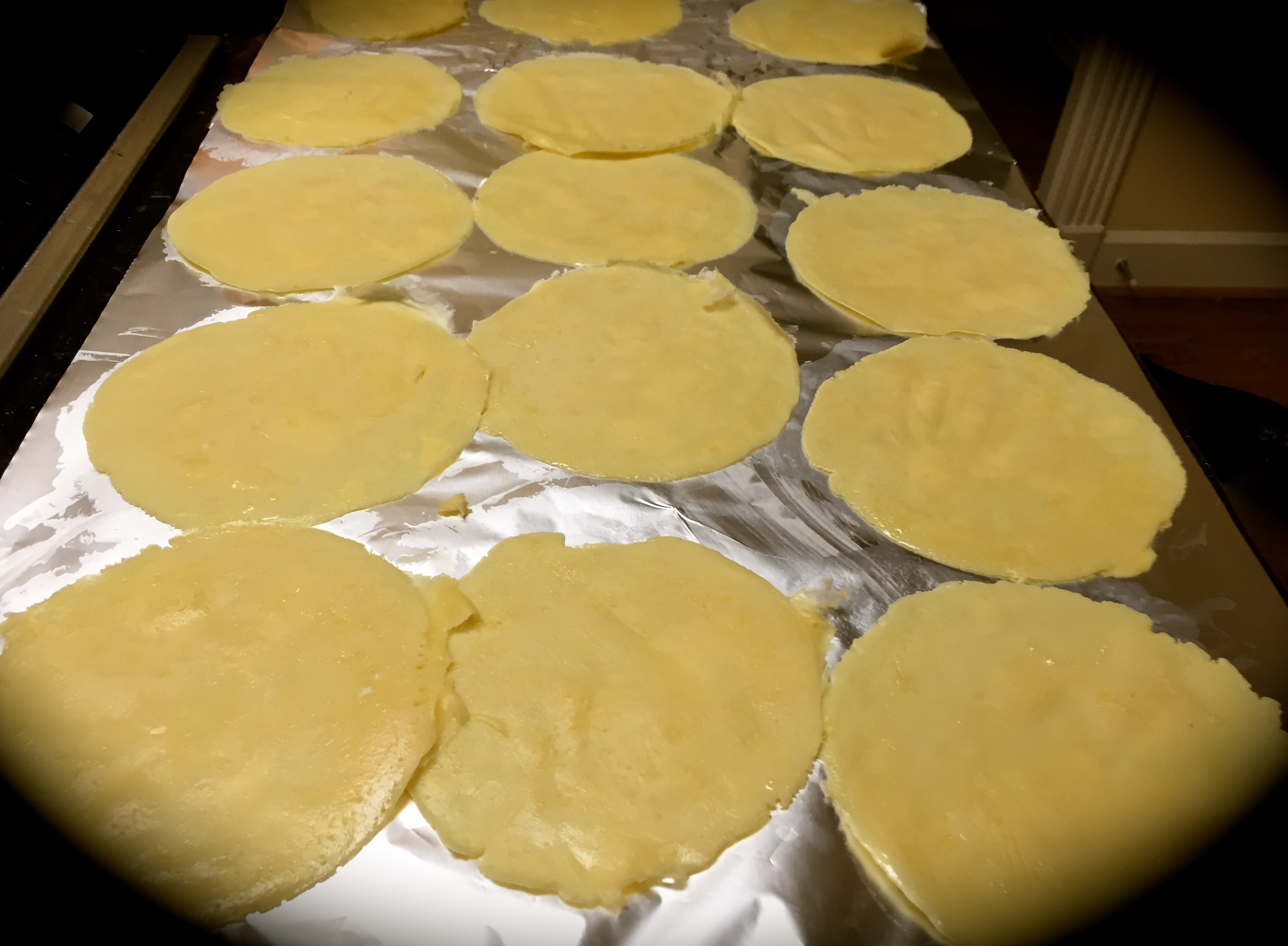 To make the crepes whisk the eggs, salt, and flour together until it forms a paste (don't use anything fancy like a mixer as it will add too much volume).  Whisk in the milk and water forming a thin, smooth batter (much thinner than a pancake batter and without the lumps).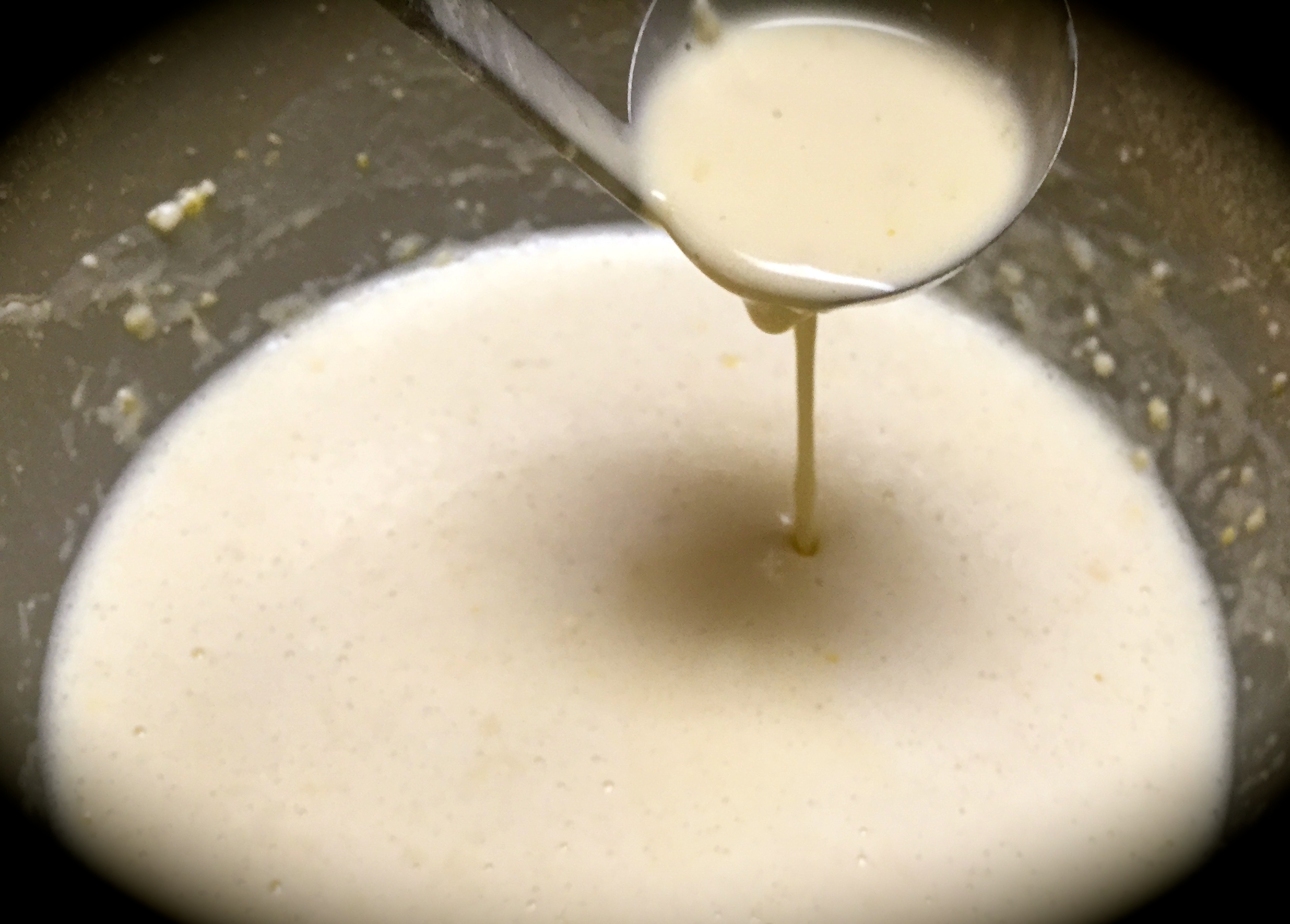 Heat a nonstick pan over low heat (we used an omelette pan but a slightly larger pan might be better).  Grease the pan with butter.  Using a small ladle (or tablespoon) add about a quarter of a cup of batter to the pan.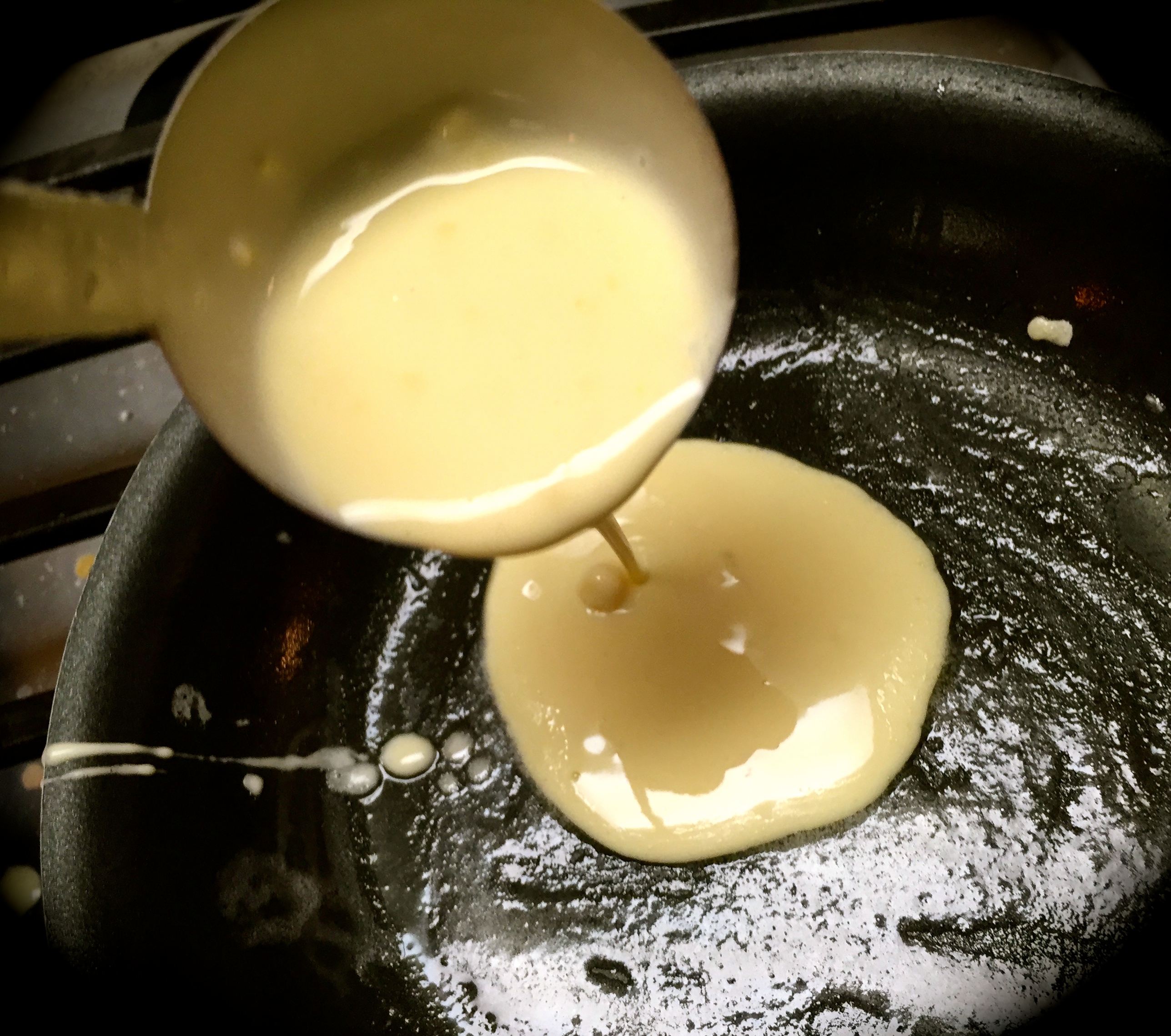 Be sure to spread the batter out evenly in the pan (you can use the back of your ladle or swirl it in the pan).  The crepes should be very thin (we will likely make ours a bit thinner next time by either using a slightly larger pan or less batter).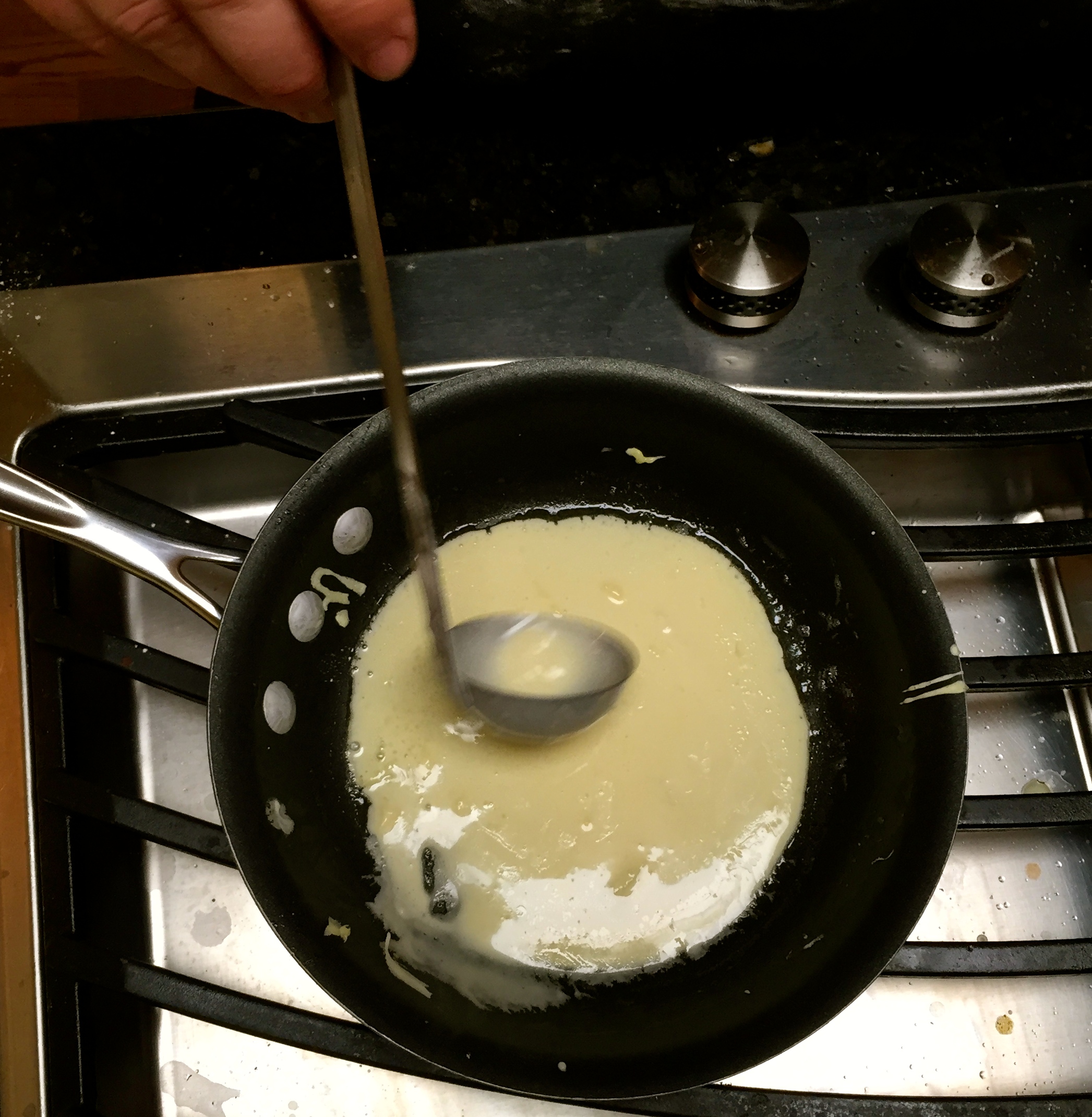 Just as the crepe begins to set, flip it over (this will take around 20 seconds).  Cook on the other side for 10 to 15 seconds and set aside.  Repeat for as many crepes as you need.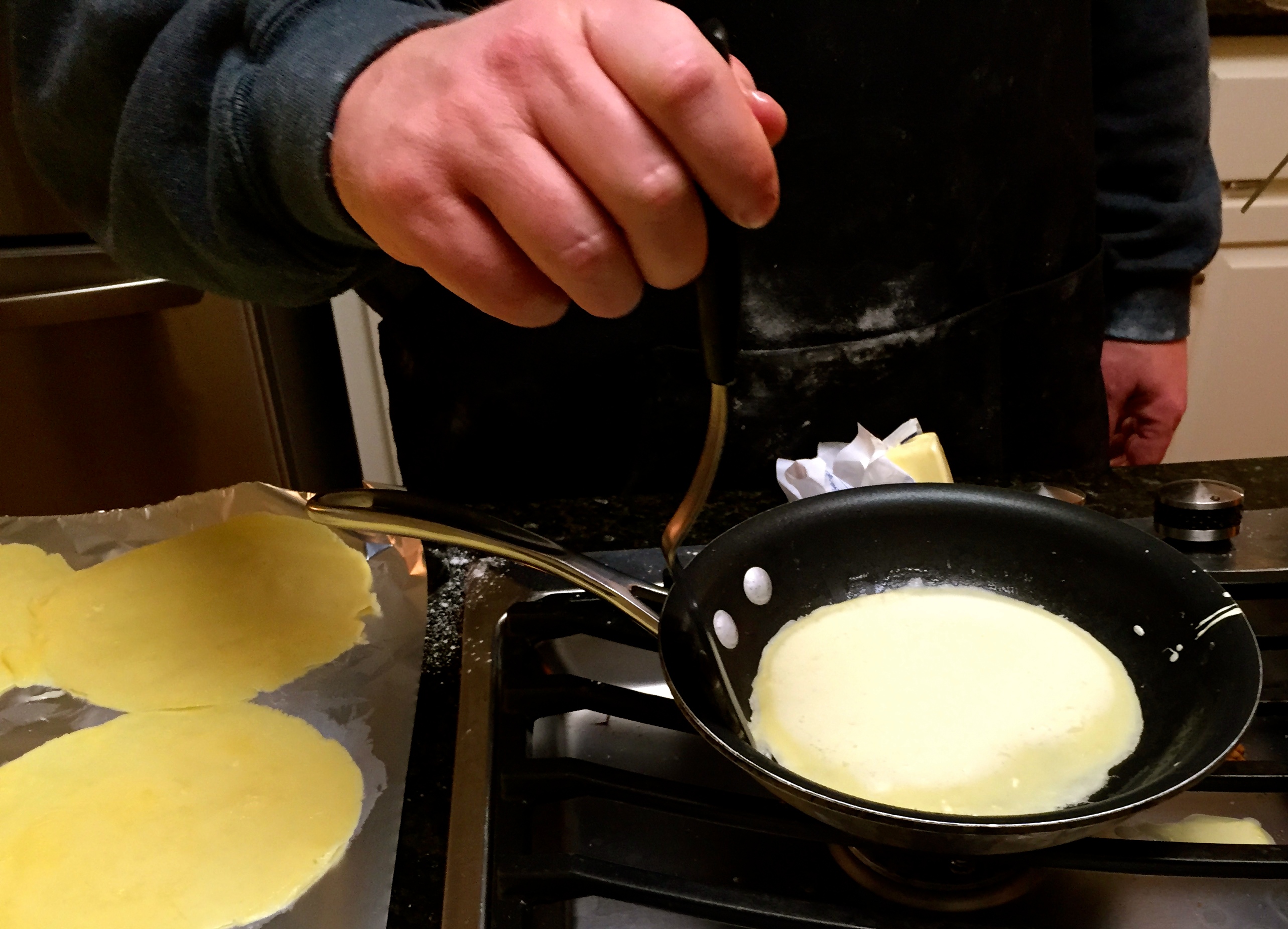 For the filling, blanch the spinach in salt water for about three minutes.  Immediately, plunge the spinach into an ice bath to stop the cooking.  Chop it roughly.
Mix all of the filling ingredients thoroughly until everything is well incorporated.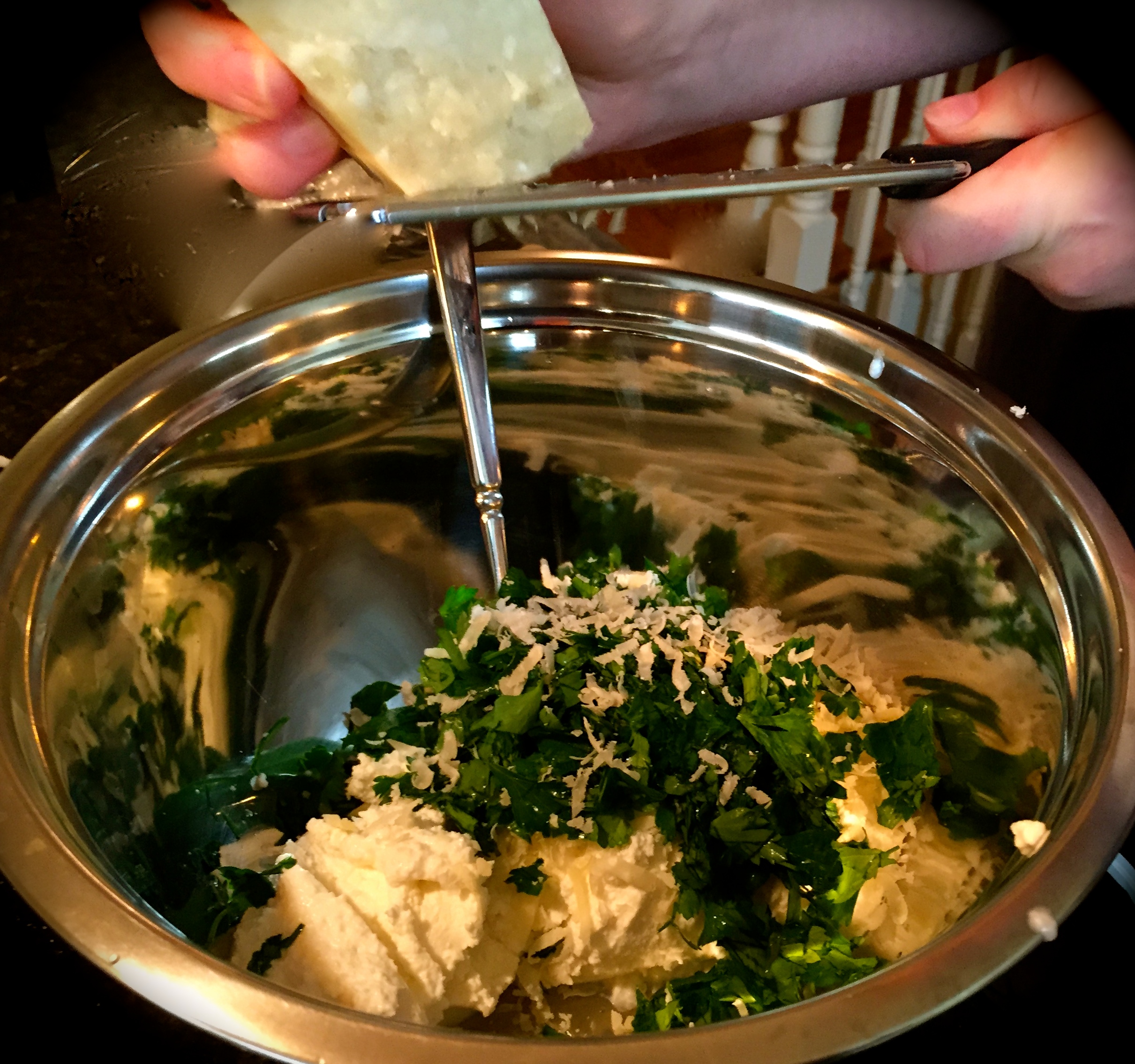 To assemble the manicotti, spoon about two tablespoons of filling on the crepe as shown in the picture.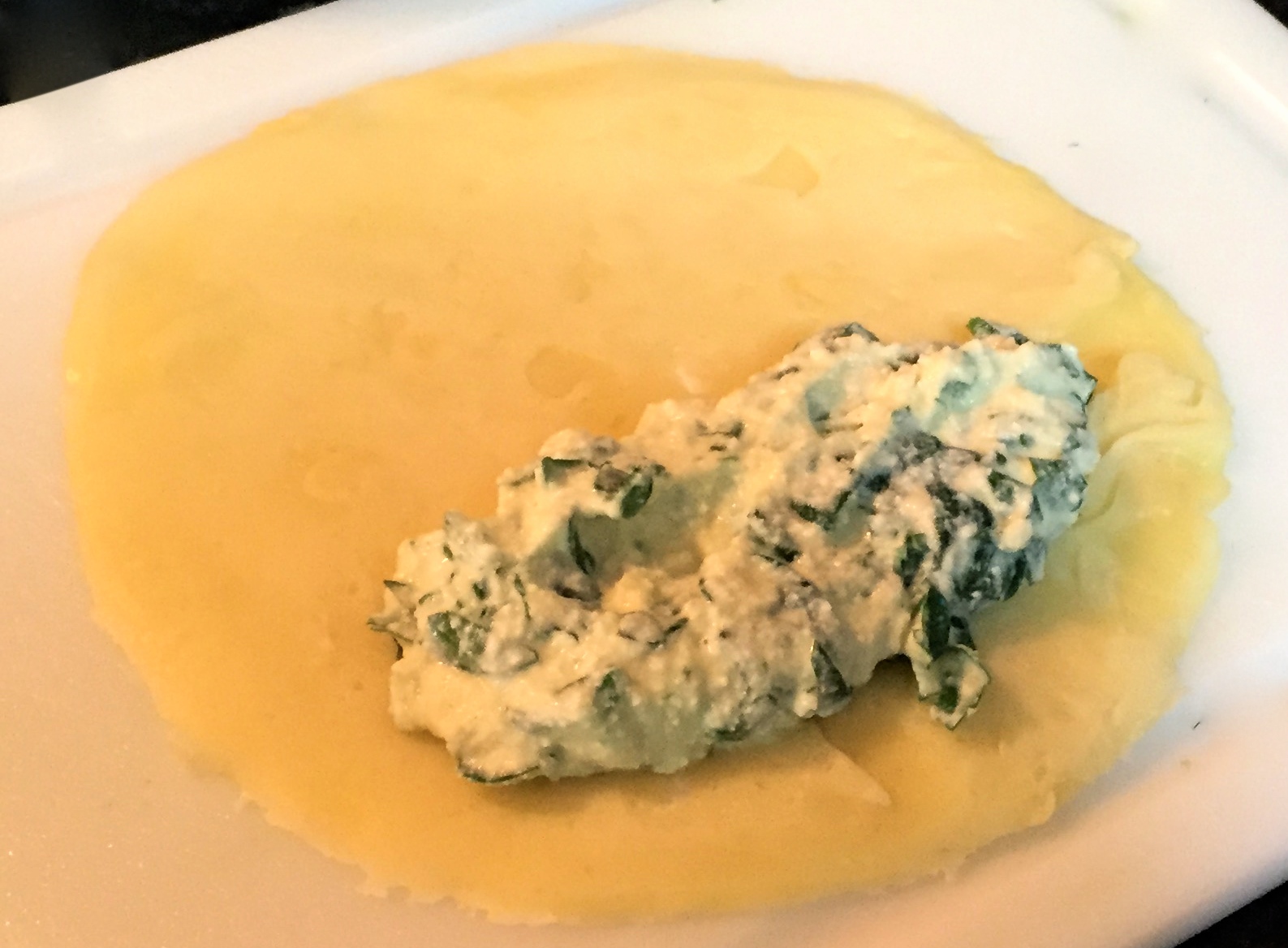 Now, roll the manicotti.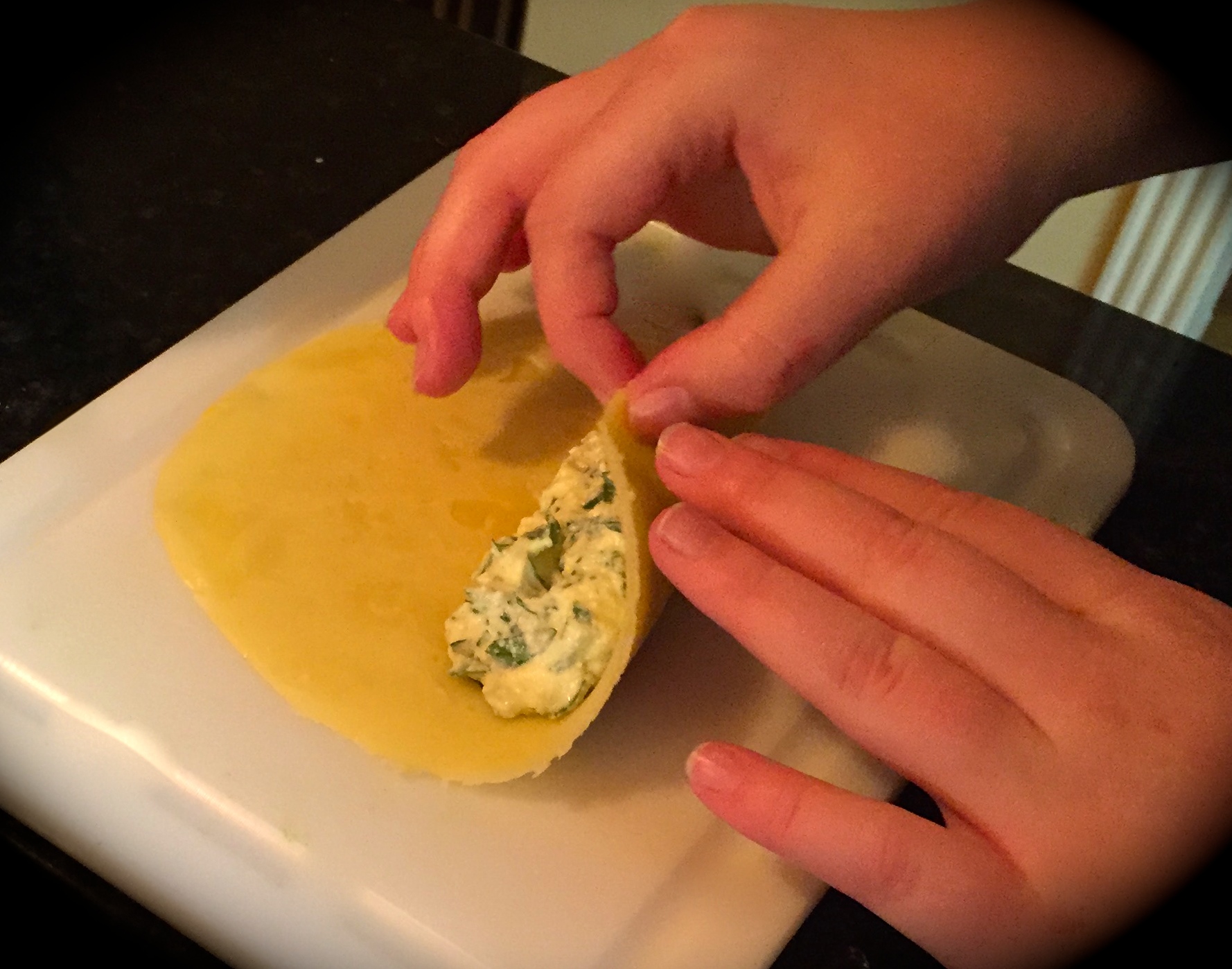 Pour a small amount of sauce in the bottom of a baking dish.  Place the assembled manicotti in the dish, seam side down.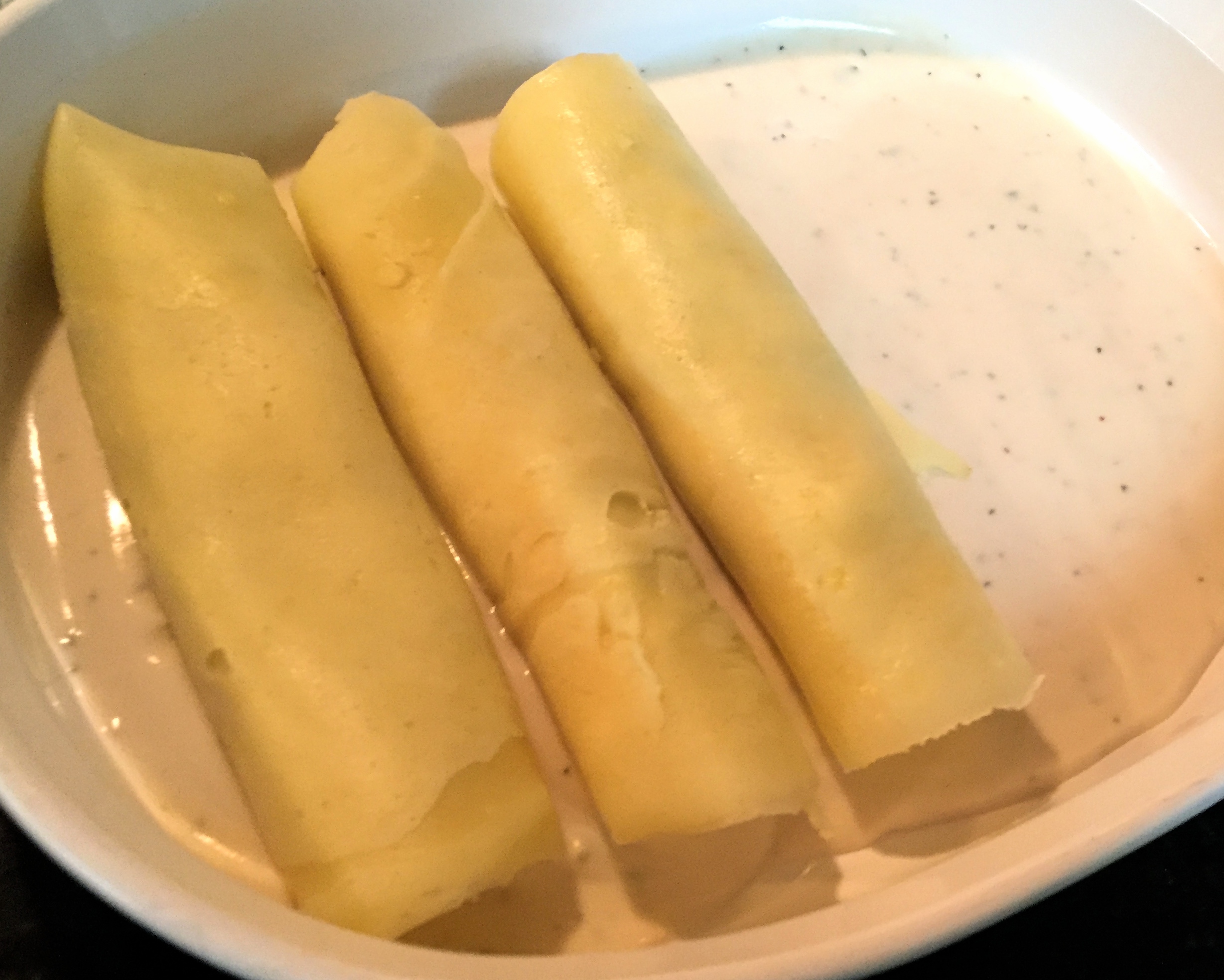 Cover the manicotti in sauce and freshly grated Parmigiano-Reggiano cheese.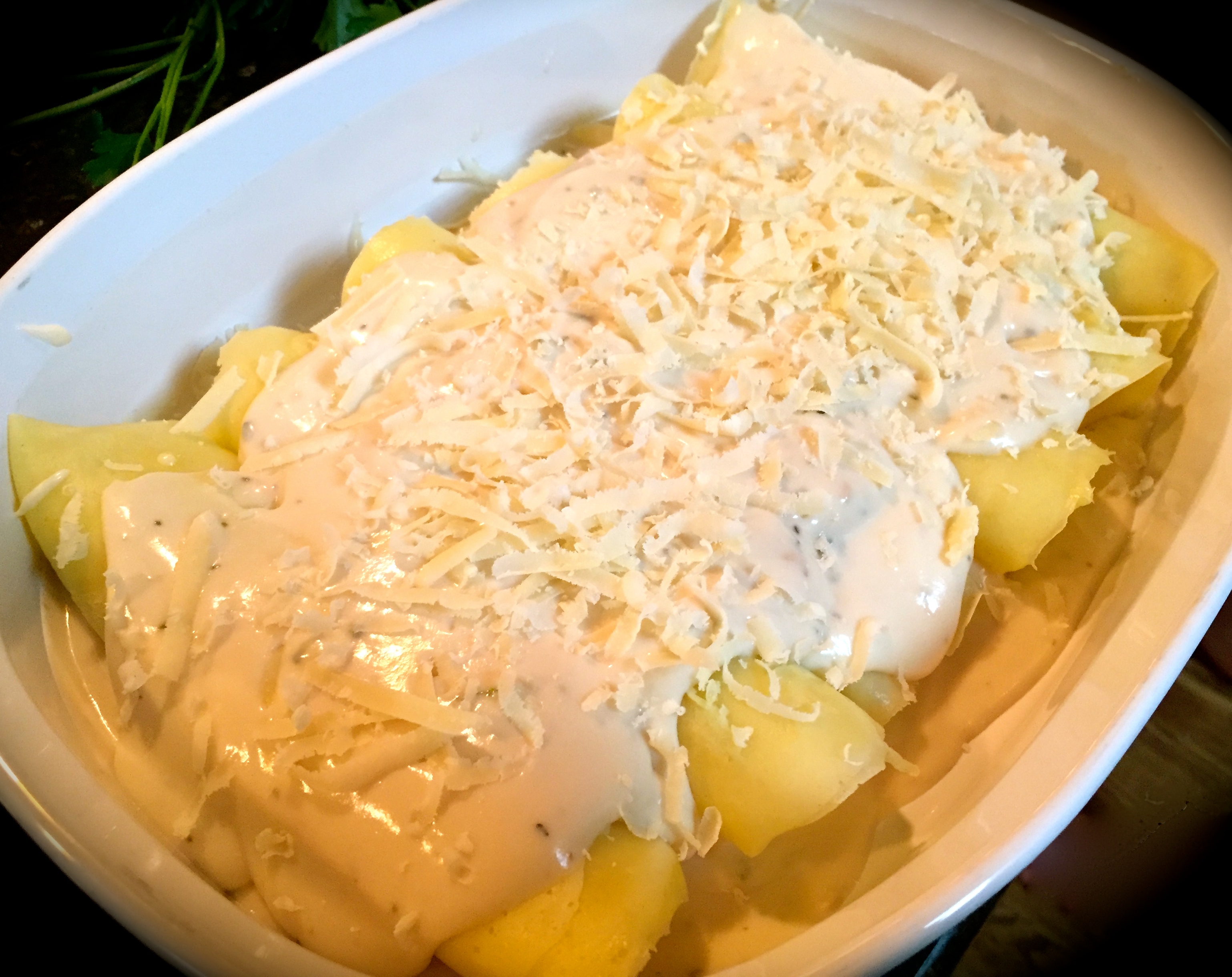 Preheat oven to 350 degrees and bake for around 30 minutes or until the cheese melts and begins to bubble.
Serve with a fresh salad, crusty bread with pesto, and a nice wine.
Enjoy a bit of luxurious comfort courtesy of Daughter-of-Boar, my friend.