Small hunting and fishing parties bring out the experimental side of the Convivial Boar.  And for years now, I've been hearing about a method of grilling steaks directly on the coals.
Finally, an opportunity presented.
While perhaps not the first to sear a hunk of meat directly on coals, President Eisenhower seems to be the most famous practitioner of this method.  Accounts hold that Ike would coax "oohs and ahhs" from his guests by showing them the massive, marbled cuts of prime meat seasoned and ready for cooking.   Then he would douse their enthusiasm by dramatically throwing the delectable cuts of meat into the fire (not really fire, hot coals —for a refresher on feast-making fires, click here)—eliciting heartfelt groans and disbelief.
I know just the type that Ike was dealing with, for when I announced to my teenage son that we were going to cook our thick-cut, bone-in ribeye steaks directly on the glowing coals, he recoiled. "Dad, I know you like to do some crazy stuff with our food, but I'm pretty hungry, and we paid quite a bit for those steaks."  As the Convivial Boar, you would think I would have a little food credibility at this point —not so.  Luckily, once a notion like this gets in my noodle, I'm immune from dissuasion.
For this adventure, I opted for a small kettle style grill —for those of you keeping score, this is the companion grill referenced in "The Boar goes a-fishing and packs a lunch…"  (Now, I can rest easy, knowing that I put both of my bargains to good use–in just over a decade).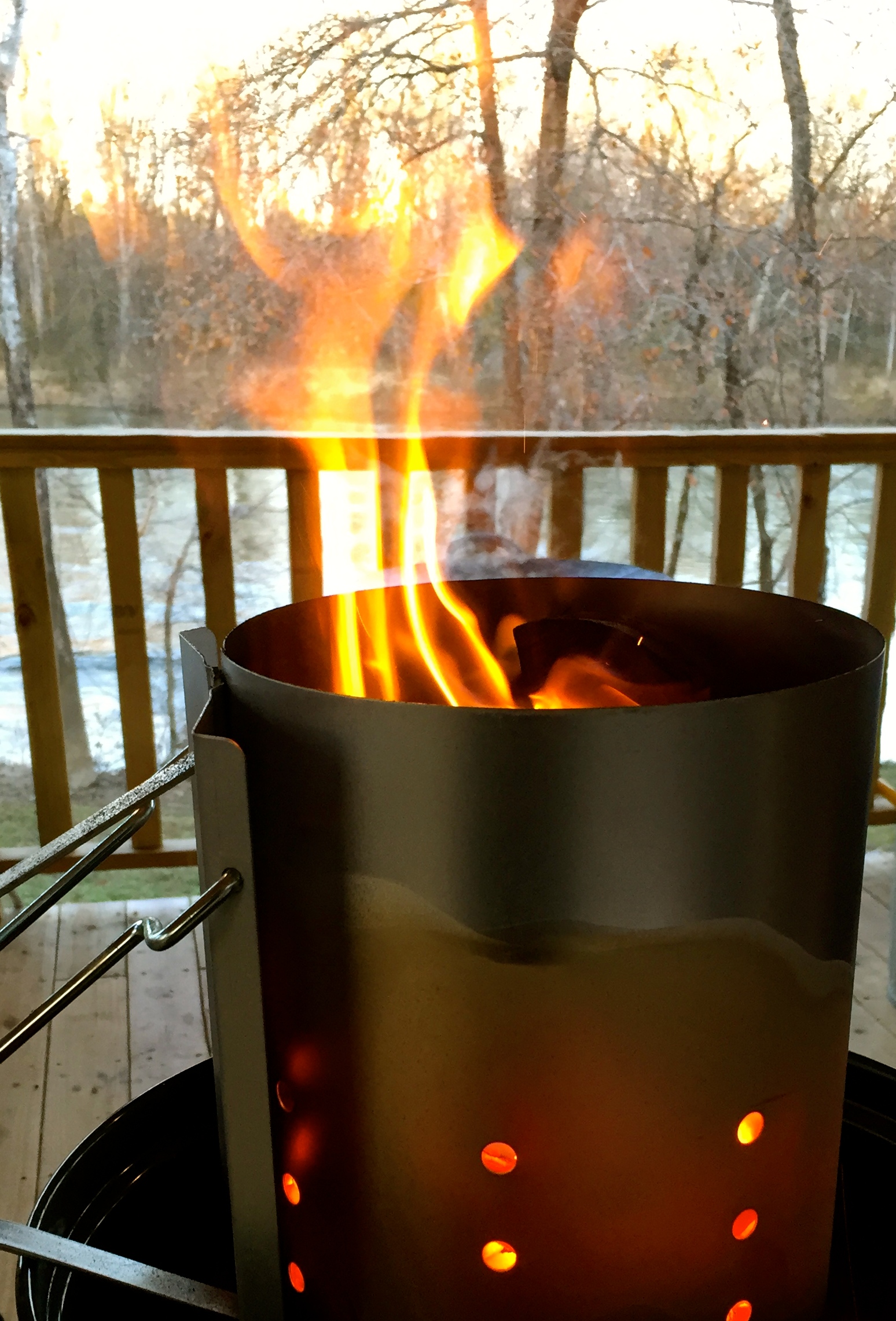 A charcoal chimney is important for this plan because we need the coals uniformly glowing.  And this should only be done with lump charcoal —no processed briquettes as they have too much chemical residue —remember our meat is going to be touching the coals.  No lighter fluid!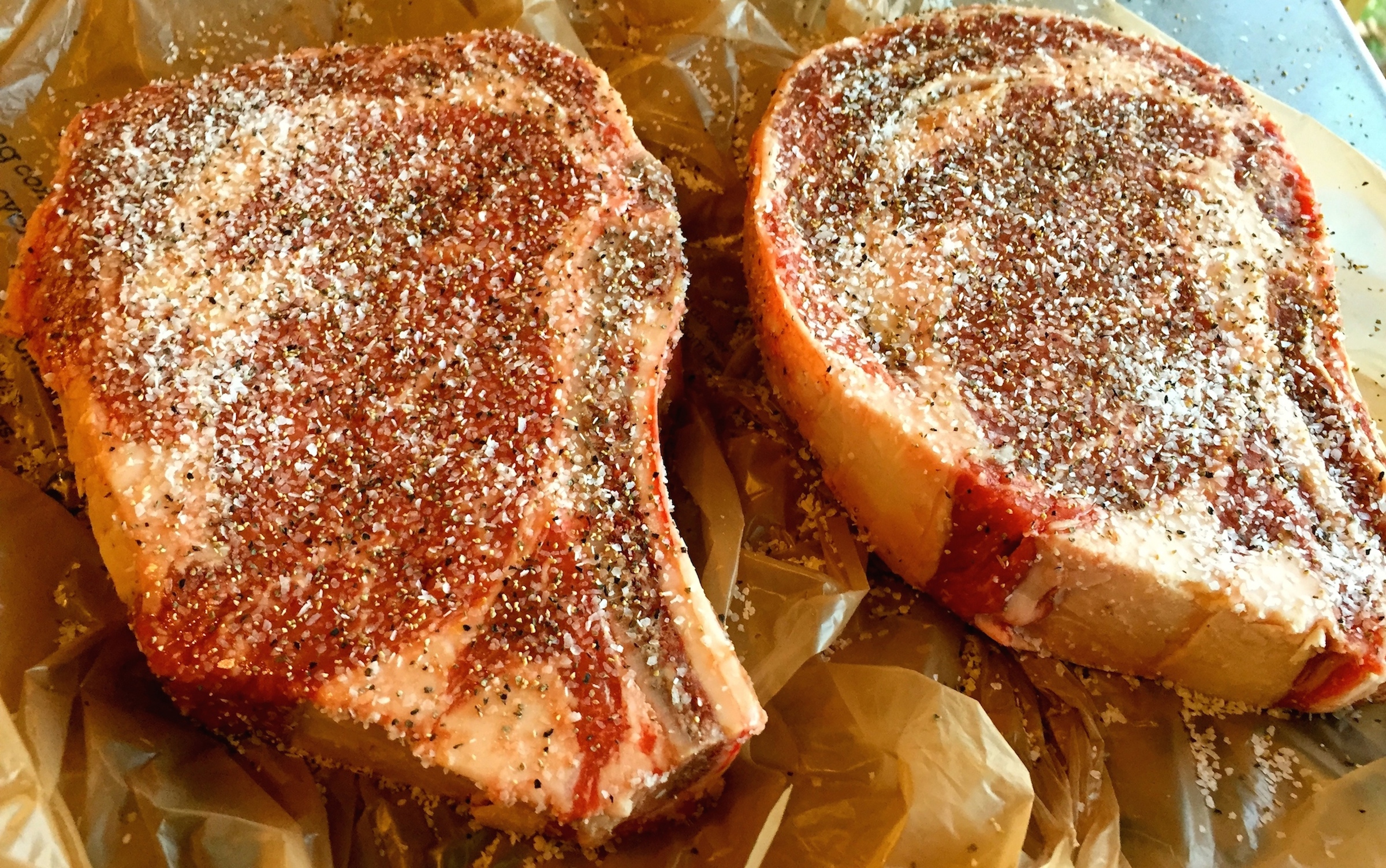 As you will recall from our earlier post "Gnaw-Worthy Steaks," I believe in quality meat with simple seasoning.  For this preparation, I omitted the olive oil and went with a heavy coating of kosher salt and black pepper.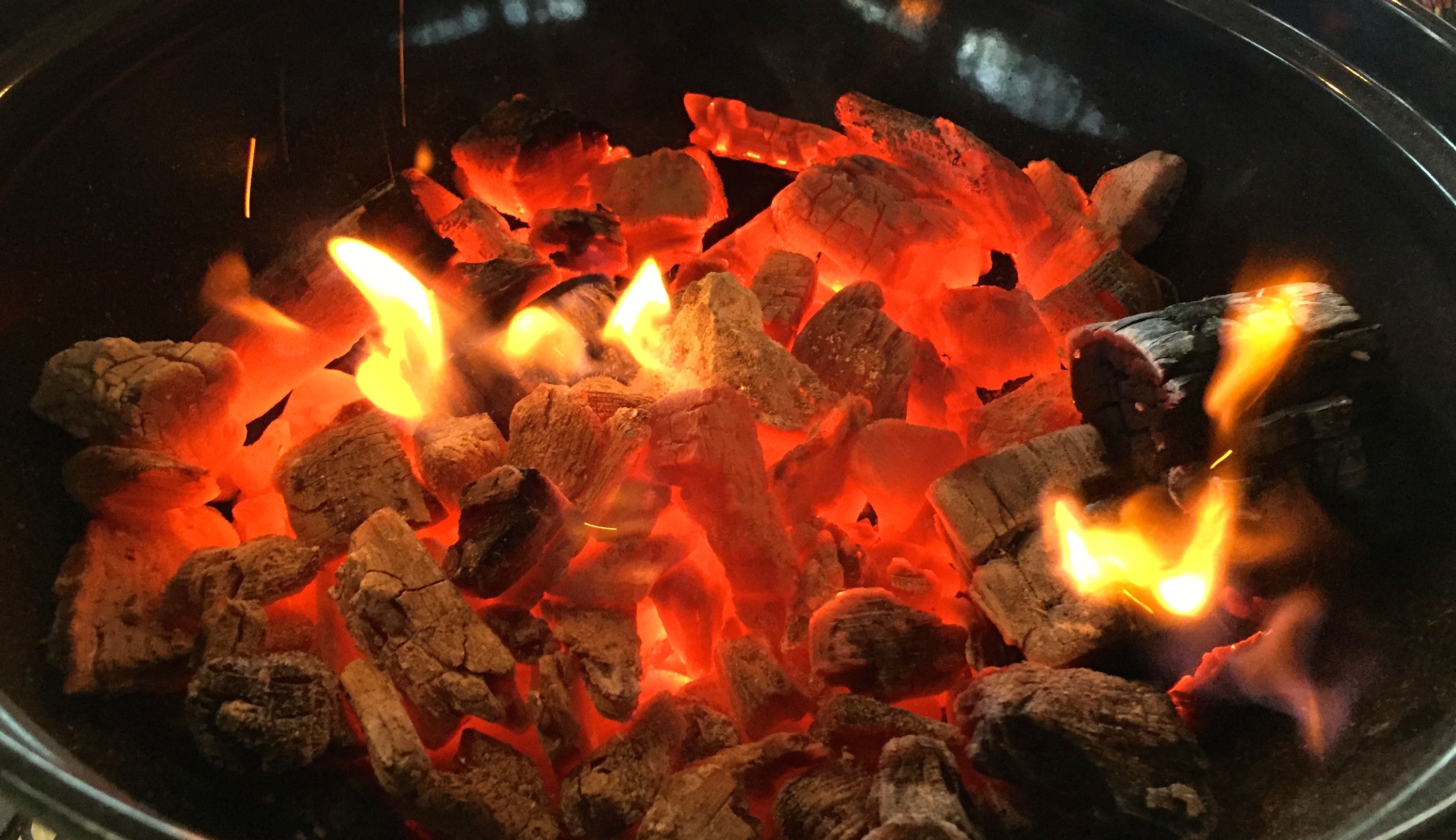 Once the fire is glowing hot in the chimney spread the coals out on the bottom grate of the grill.  Level the coals as much as possible and allow them to keep burning until they all are glowing orange and white.  Just before I placed the steaks on the coals, I blew on the coals to remove any loose particles (I read that some people use a hair dryer for this step).
Now, for the big moment: nestle the steaks down on top of the coals.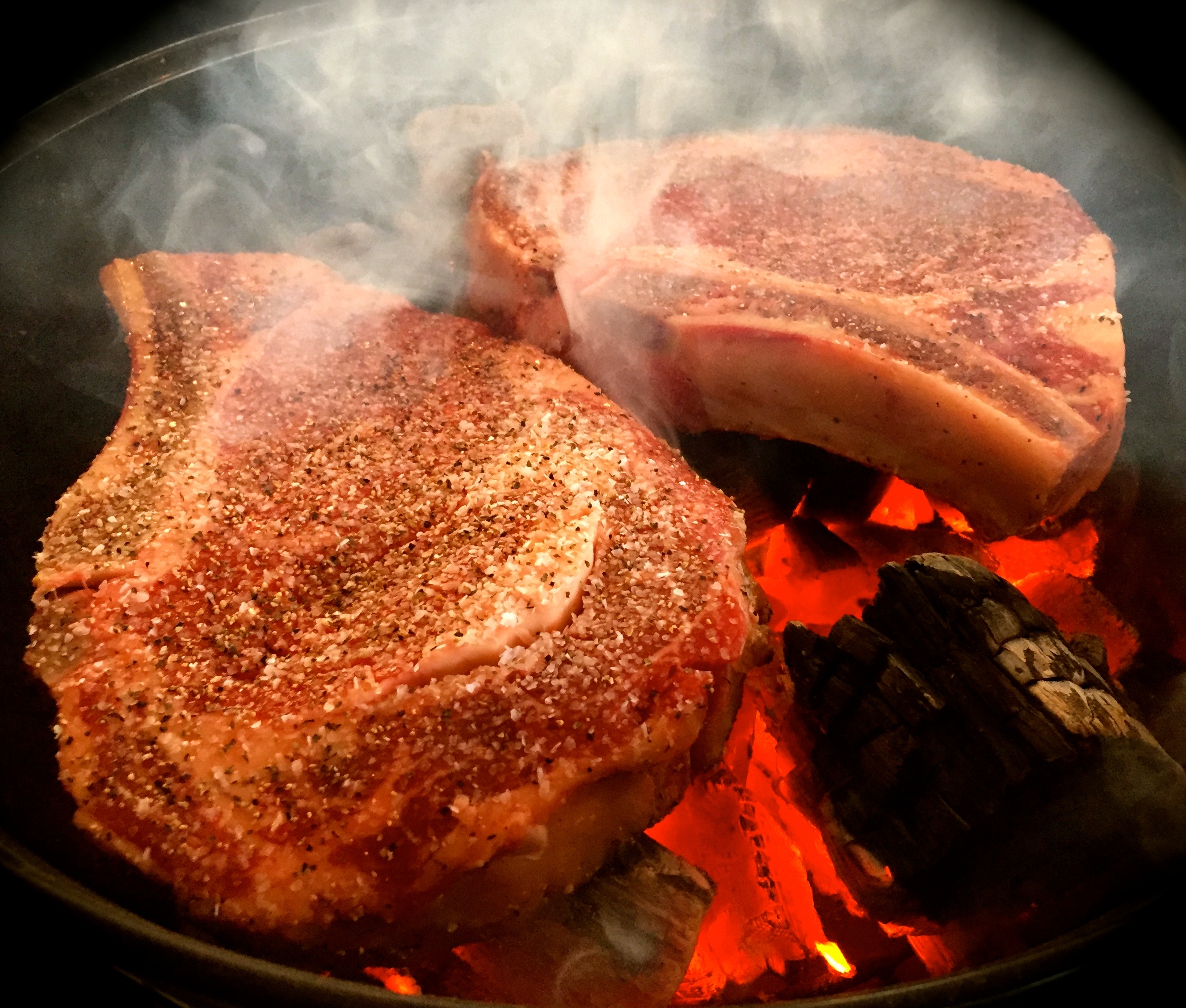 The big idea of this preparation is that it caramelizes the surface of the steak forming a seasoned, flavorful crust without overcooking the center.  To accomplish the crust, each side will need at least three or four minutes on the coals.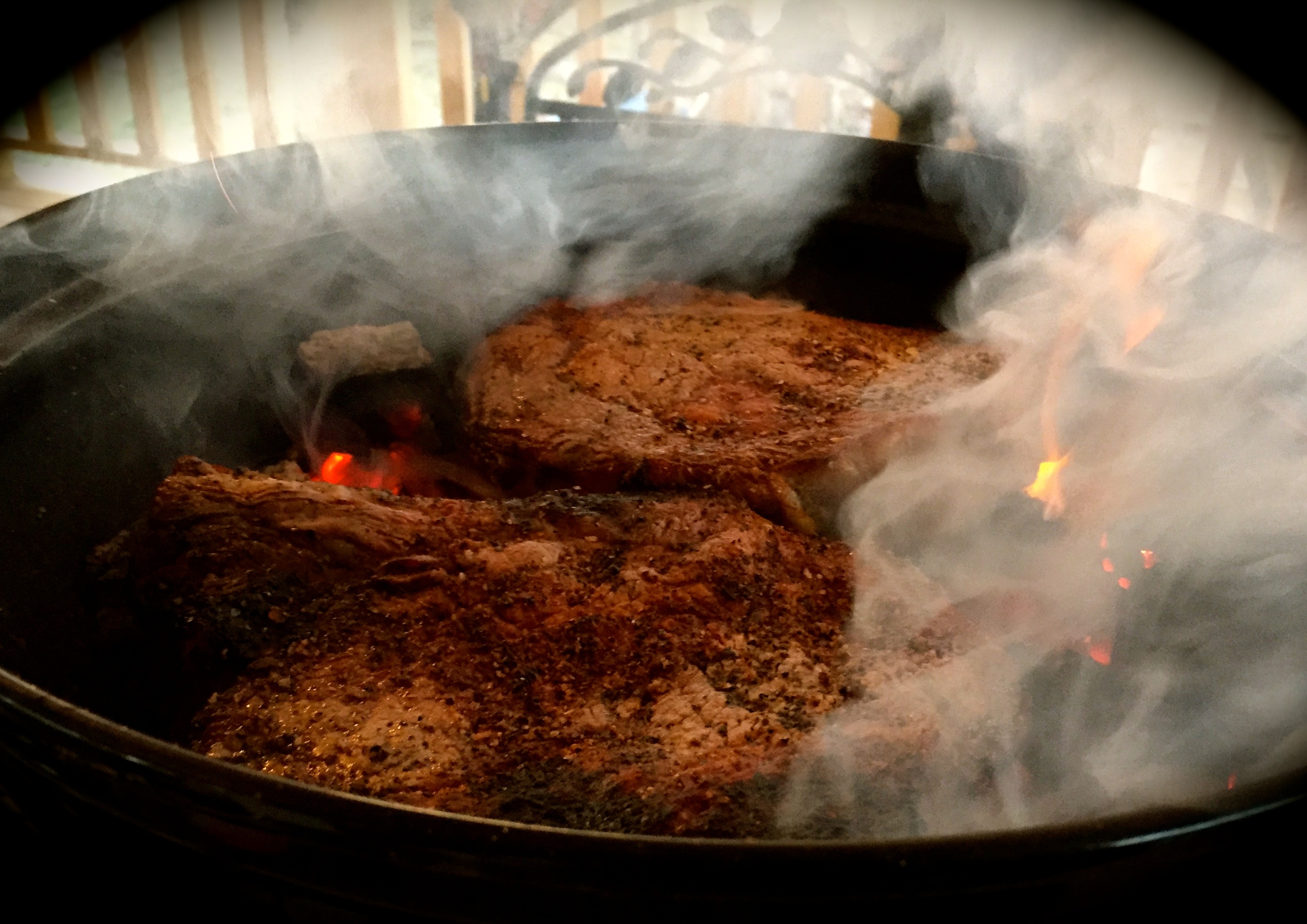 As you remove the steaks from the coals use a paper towel or kitchen brush to dust off any ash or wood particles.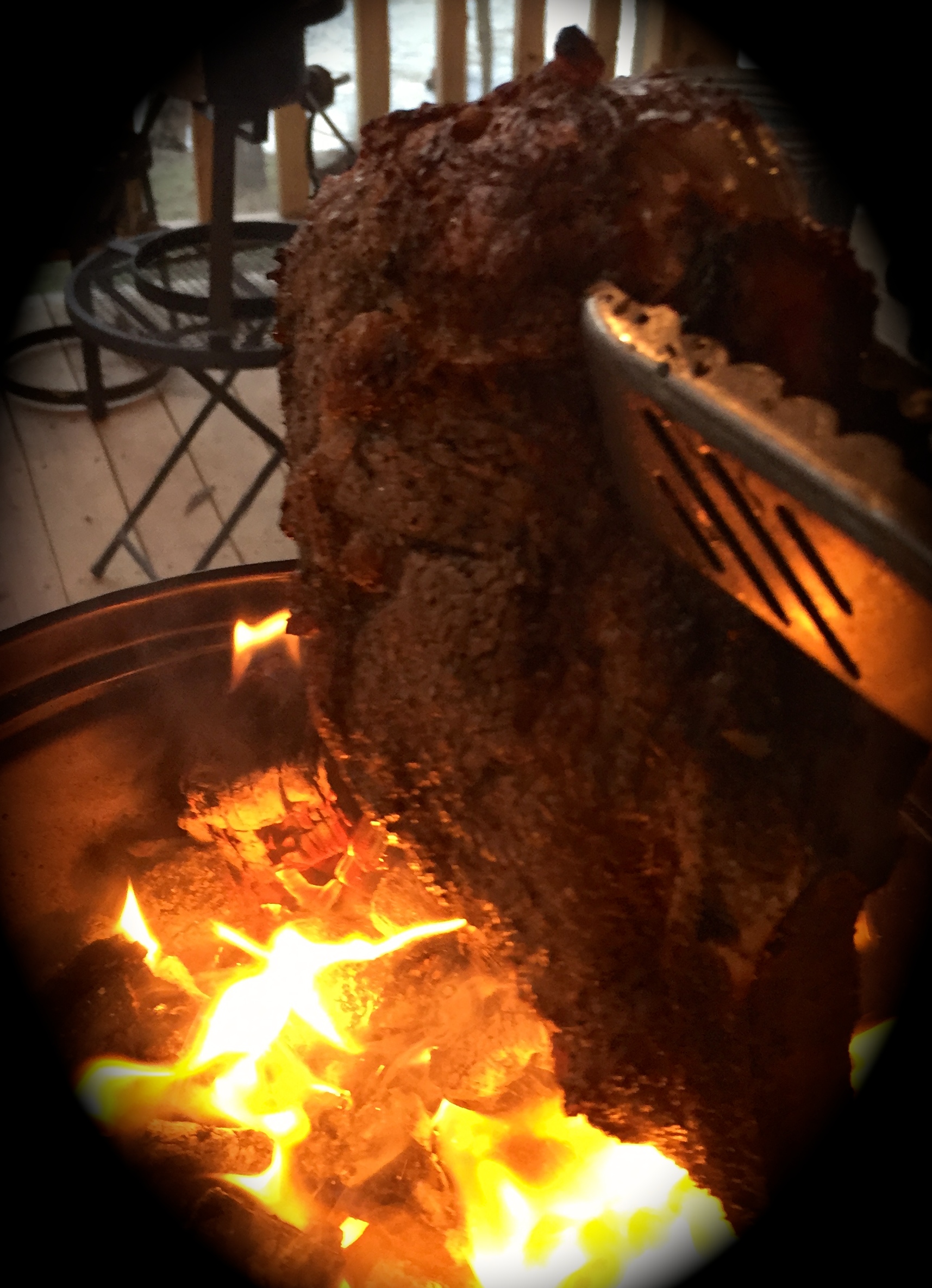 Our steaks were an inch-and-a-quarter in thick, and four minutes per side resulted in a perfect rare.  Because my feasting companions desired them more done, I finished them for about three more minutes per side on a rack above the coals for a medium.  You could also just leave them in the coals a bit longer.
As always, allow the steaks to sit a spell and rest before serving.
We paired our Ike-like steaks with sautéed garlic potatoes, onions and green-peppers prepared on our disk pan.  For the story of this pan click here.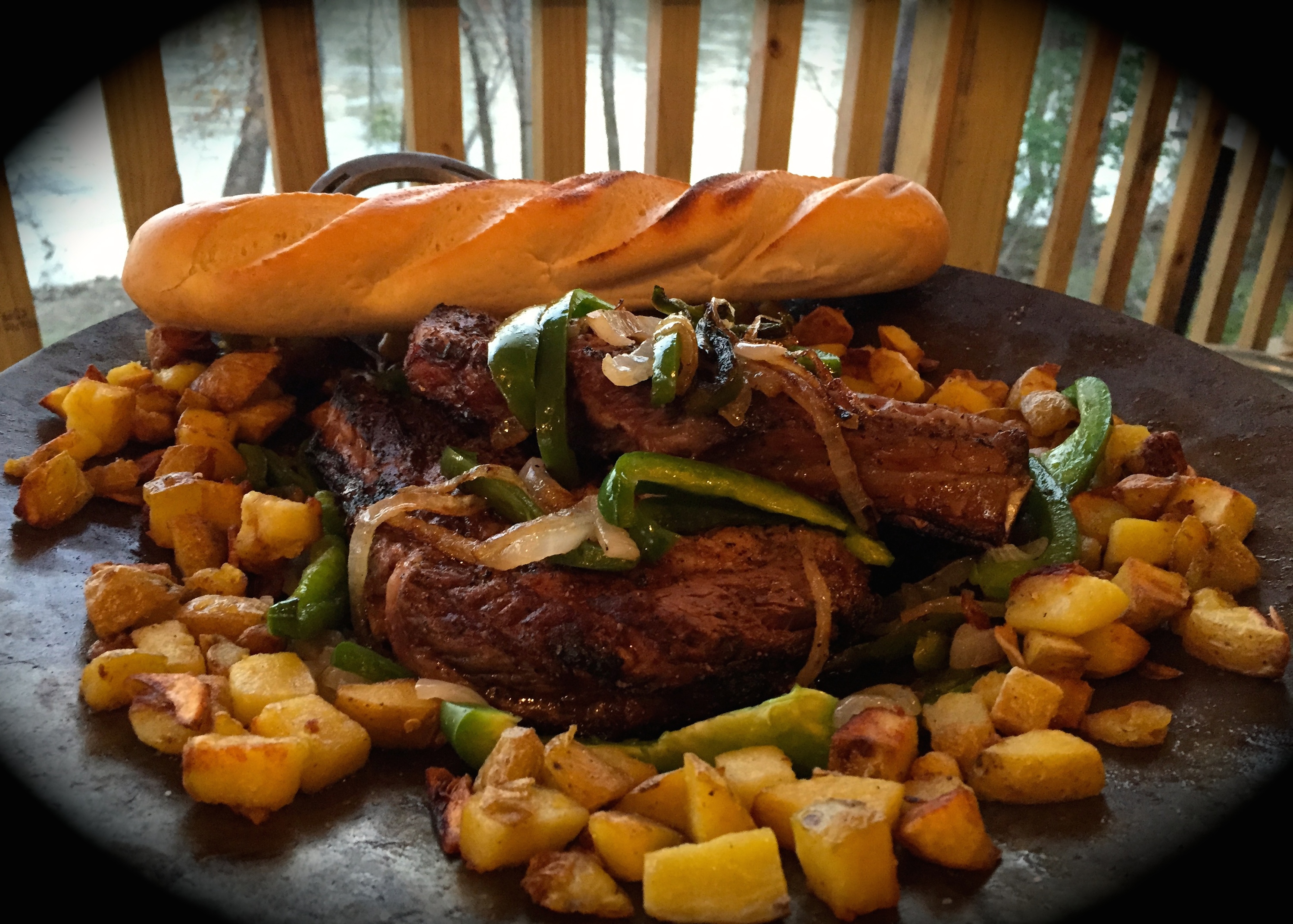 Upon the first juicy bite, our doubting feaster, much like I suspect Ike's guests were, was won over declaring "this is the best steak, I have ever eaten."  And the Convivial Boar agrees.  Not only will I be charring steaks in the fire for feasts to come, I plan to expand to other meats —pork chops—maybe even a whole roast.
Into the fire, my friend.