Amidst the hustle-and-bustle of the Christmas festivities, the Boar pauses and daydreams of the post-frenzy slow down.  Allow me to set the scene…
As you leisurely stroll through your local produce market, the lights dim.  The deep, sensual voice of Barry White focuses your passion.  And then as you turn to the next aisle, you glimpse these curvaceous, voluptuous creatures…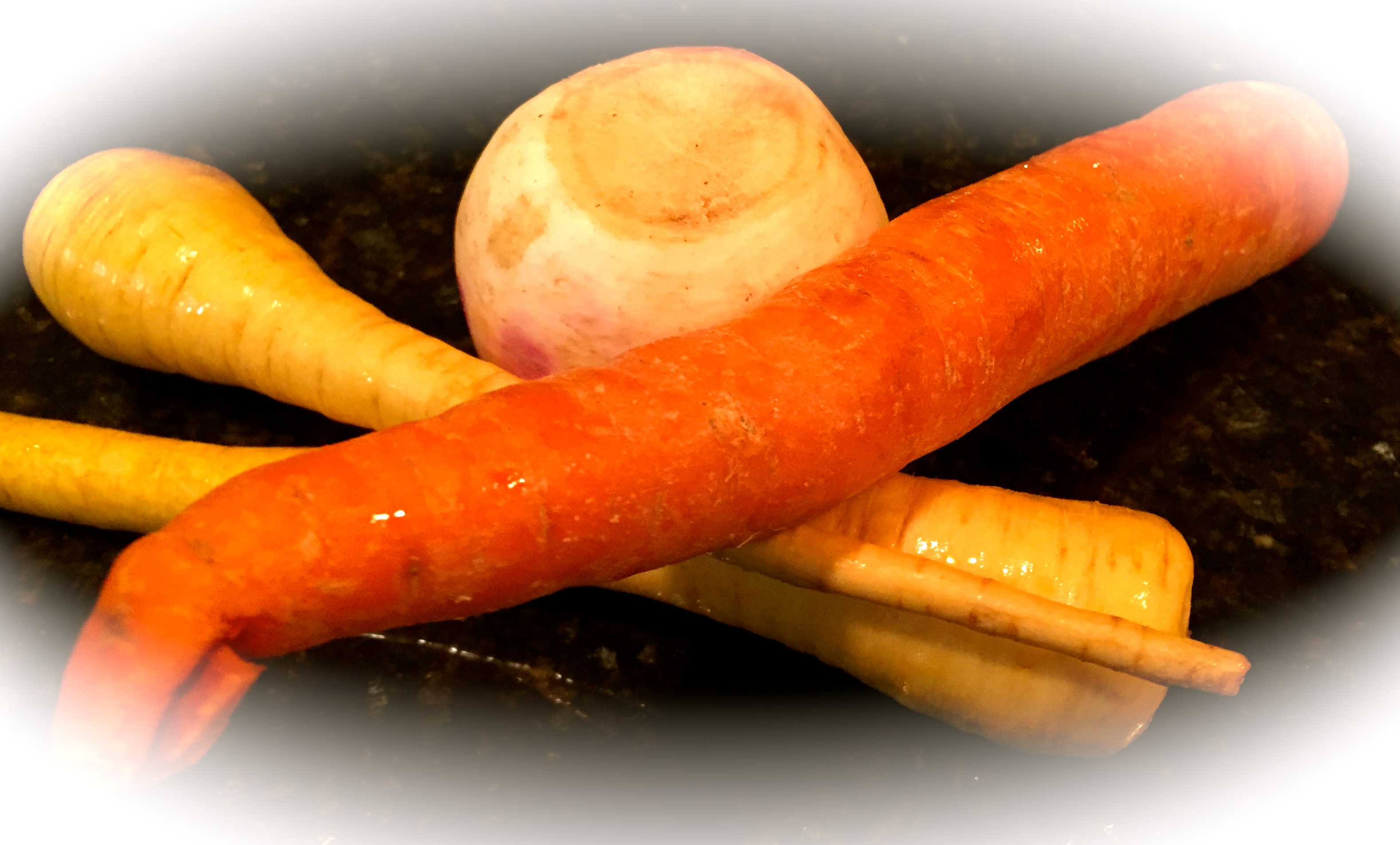 Overcome with a blushing energy, you turn away just in time to catch these bulbous temptresses —disrobed…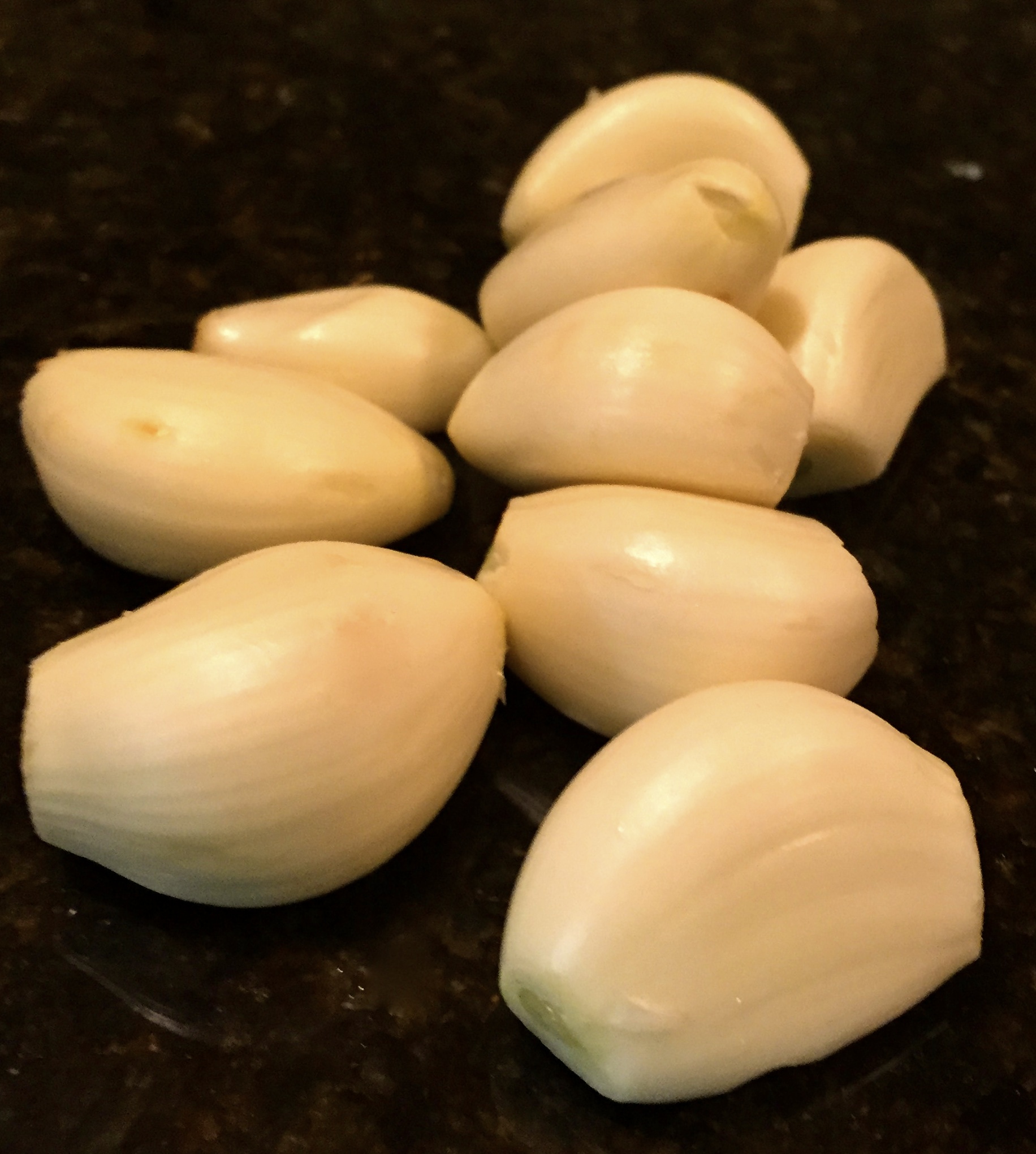 Nothing like the romance of root vegetables, my friend —except maybe embracing them to create a storied stew from the Southwest region of France.
Garbure topped with Gruyere Crustini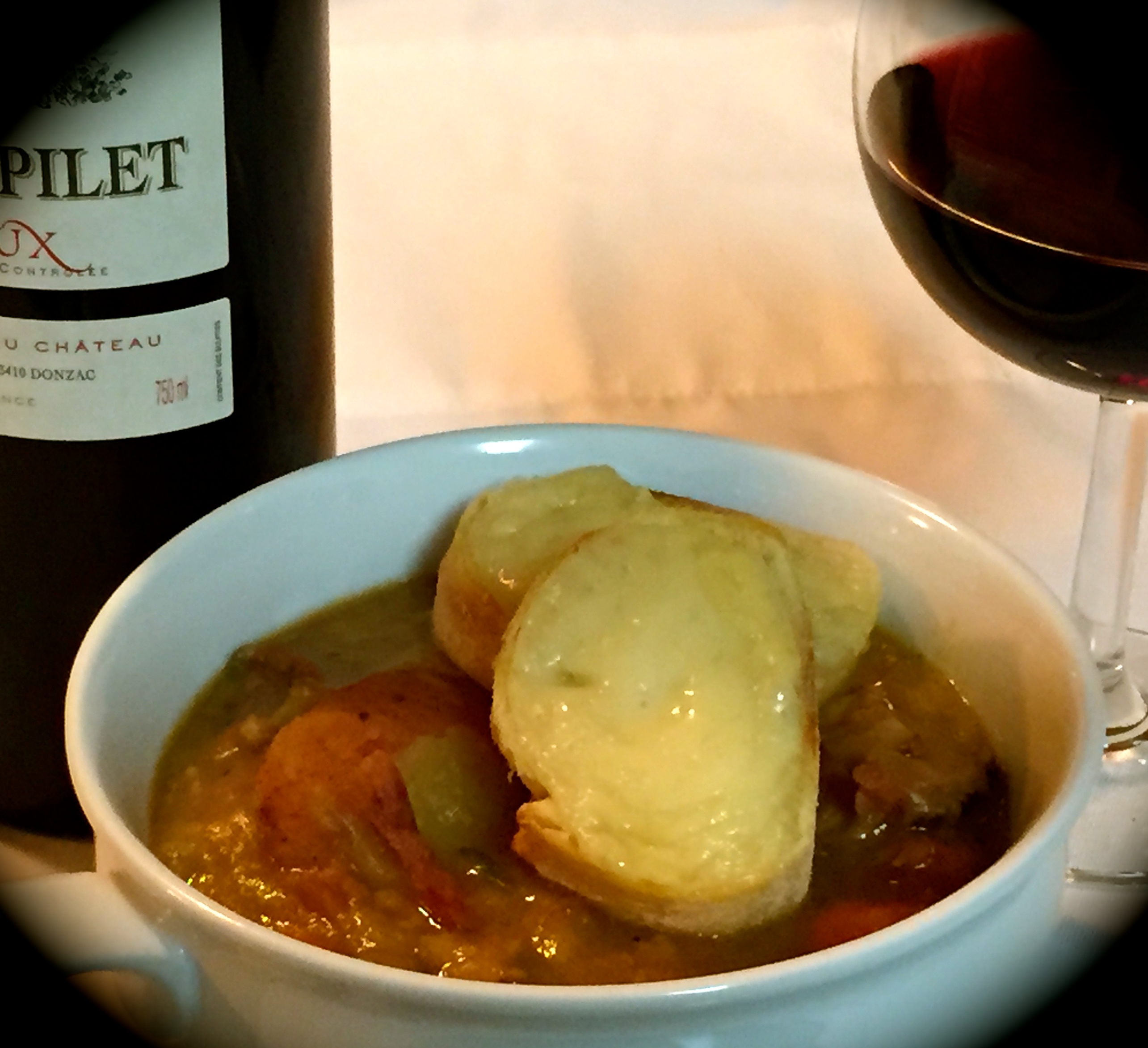 As you know from last Christmas, the left over hambone is to be treasured.  (Click here for reminder).  And while traditional Garbure is made with smoked ham hock, for our after Christmas Garbure, I suggest substituting your hambone —as you will see from the pictures, mine was a peppered ham.
Garbure is a thick, vegetable-rich stew.  The ingredients are varied but the mainstays are ham, white beans, root vegetables, and cabbage (I left cabbage out because I made the mistake of mentioning it to Wife-of-Boar and she turned up the nose —I omitted it and did not speak of any other ingredients).  Like many soups and stews, Garbure is not bound by a rigid list of ingredients or portions of each.
Here is the story of my Garbure:
Ingredients: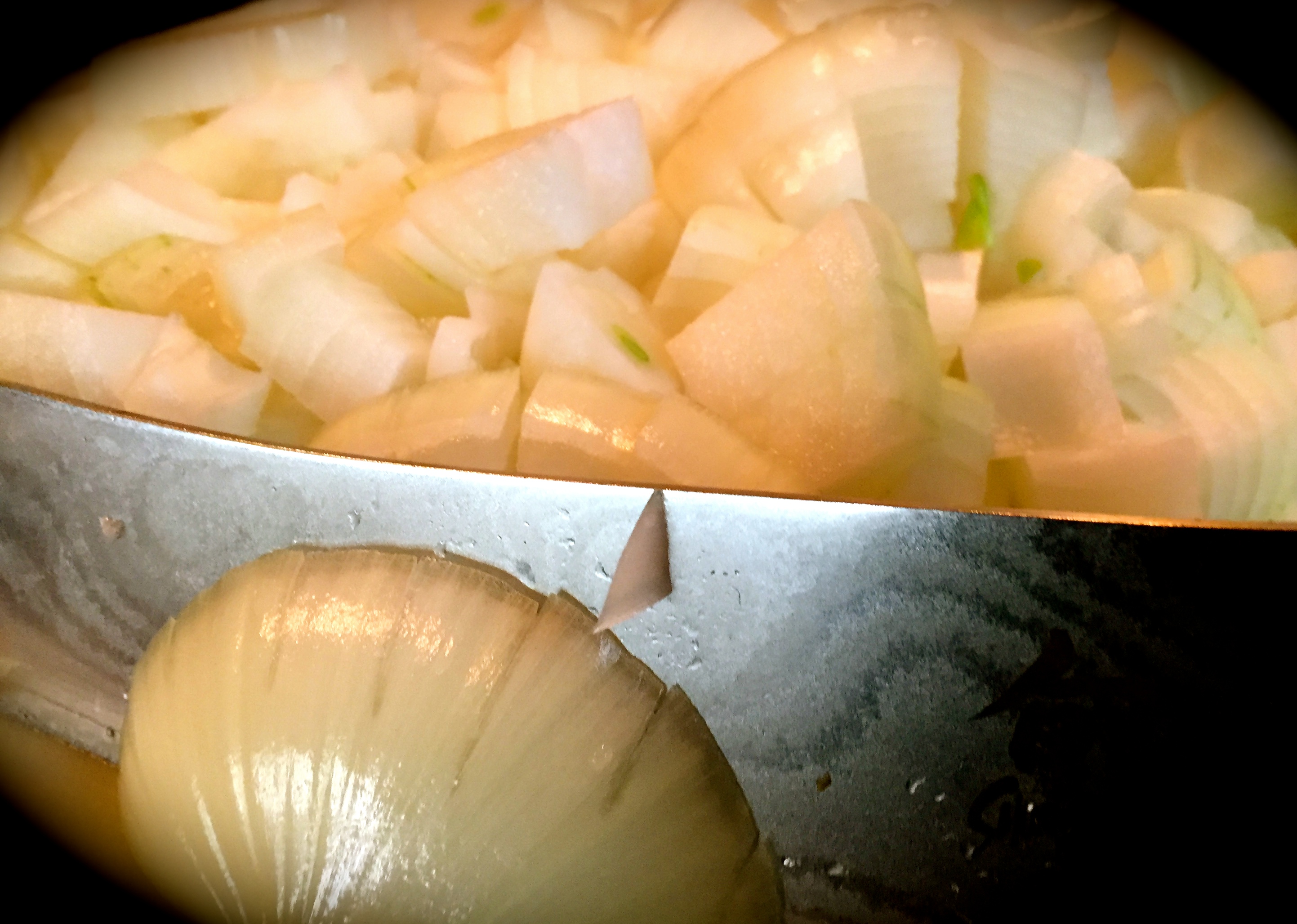 Applewood smoked bacon (8 slices, diced)
Olive oil (enough to cover bottom of pot)
Leeks (I used an entire bunch of four —just the white and pale green portions, roughly chopped into half moons)
Sweet onions (3, roughly chopped)
Celery (4 stalks, roughly chopped)
Head of garlic (chopped)
Carrots (6, chopped into have moons)
Parsnips (6, chopped into bite size pieces)
Turnips (2, chopped into bite size pieces)
White Beans (I used Lima, but any dry white bean will work. I soaked mine overnight before making the stew)
Small red potatoes (cut in half, I added about ten)
Chicken broth (enough to cover vegetables, if needed add water)
Hambone (or ham hock)
Fresh rosemary and thyme (tied together to form a bouquet)
Kosher salt
Black Pepper
French Baguette (sliced into rounds)
Gruyere cheese (sliced thinly to fit on rounds of french bread)
Plan:
Using a heavy pot (like enameled cast iron), cover the bottom with olive oil and sauté, over low-medium heat, the bacon pieces until the fat is rendered but they are not yet browned —about ten minutes.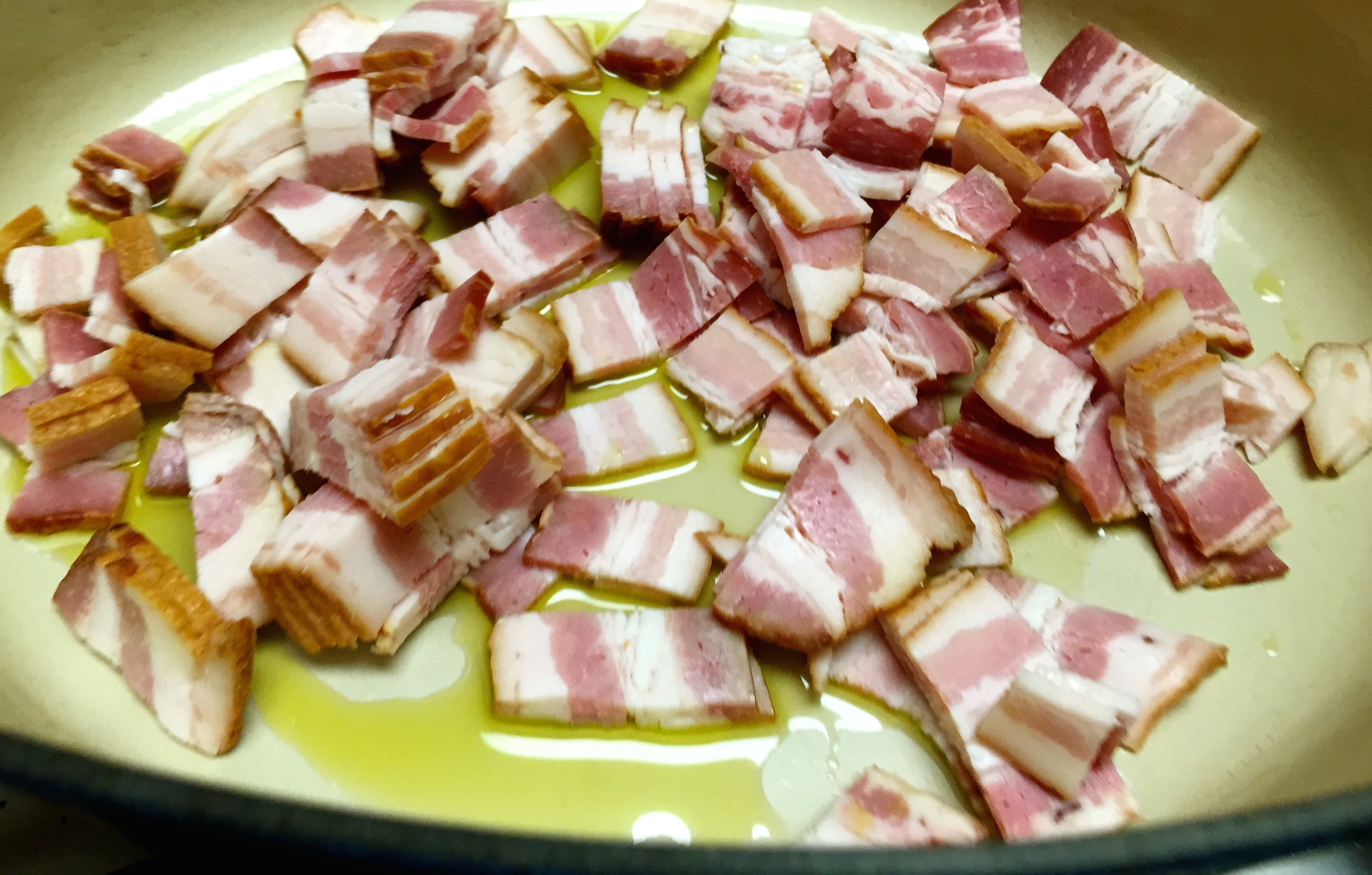 Add the leeks, garlic, onions, celery, carrots, parsnips, and turnips and sauté until they are softened. You can add additional olive oil if needed. Season with kosher salt and black pepper. This step should take between ten and fifteen minutes.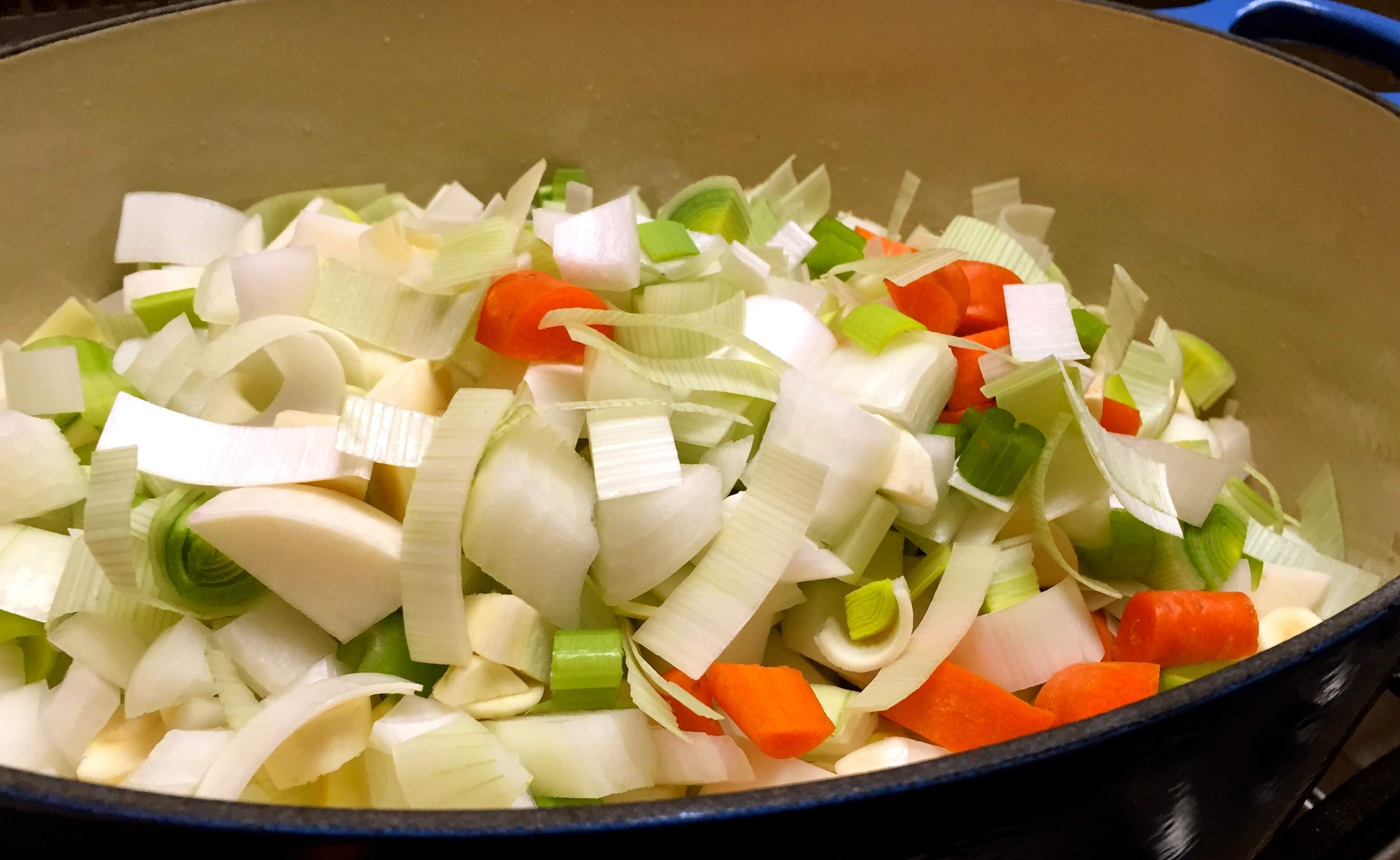 Next, pour in enough broth (and water) to cover the vegetable and bacon mixture. Bring to a simmer.
After a few minutes of simmering, add the white beans and the herb bouquet. Allow to simmer for thirty minutes to an hour, stirring occasionally. For this step leave the pot uncovered to allow the broth to concentrate.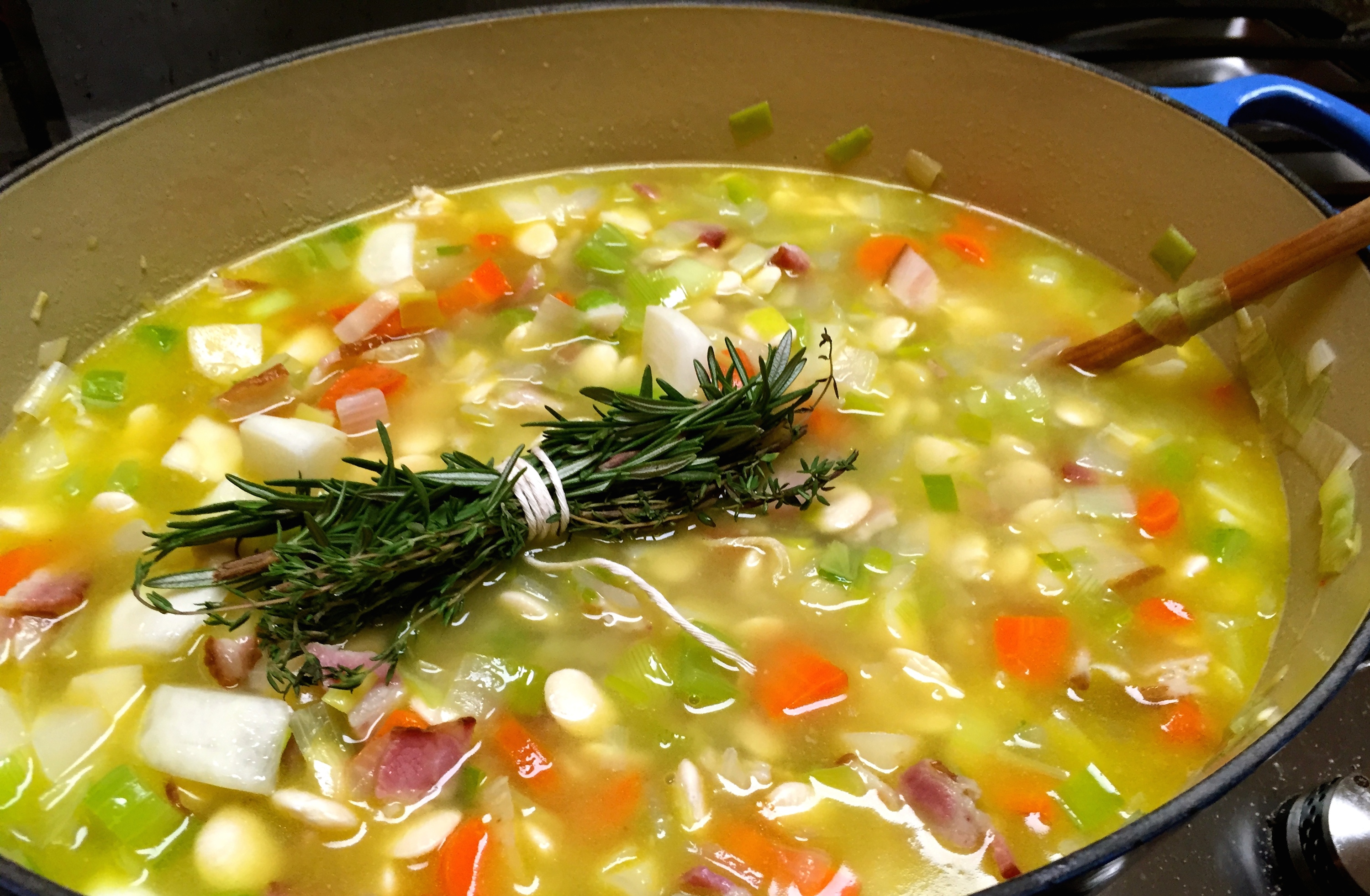 Now, add the hambone and potatoes. Bring back to a simmer, cover the pot, and cook for two to three hours —or until all of the vegetables are soft and the ham is pulling from the bone.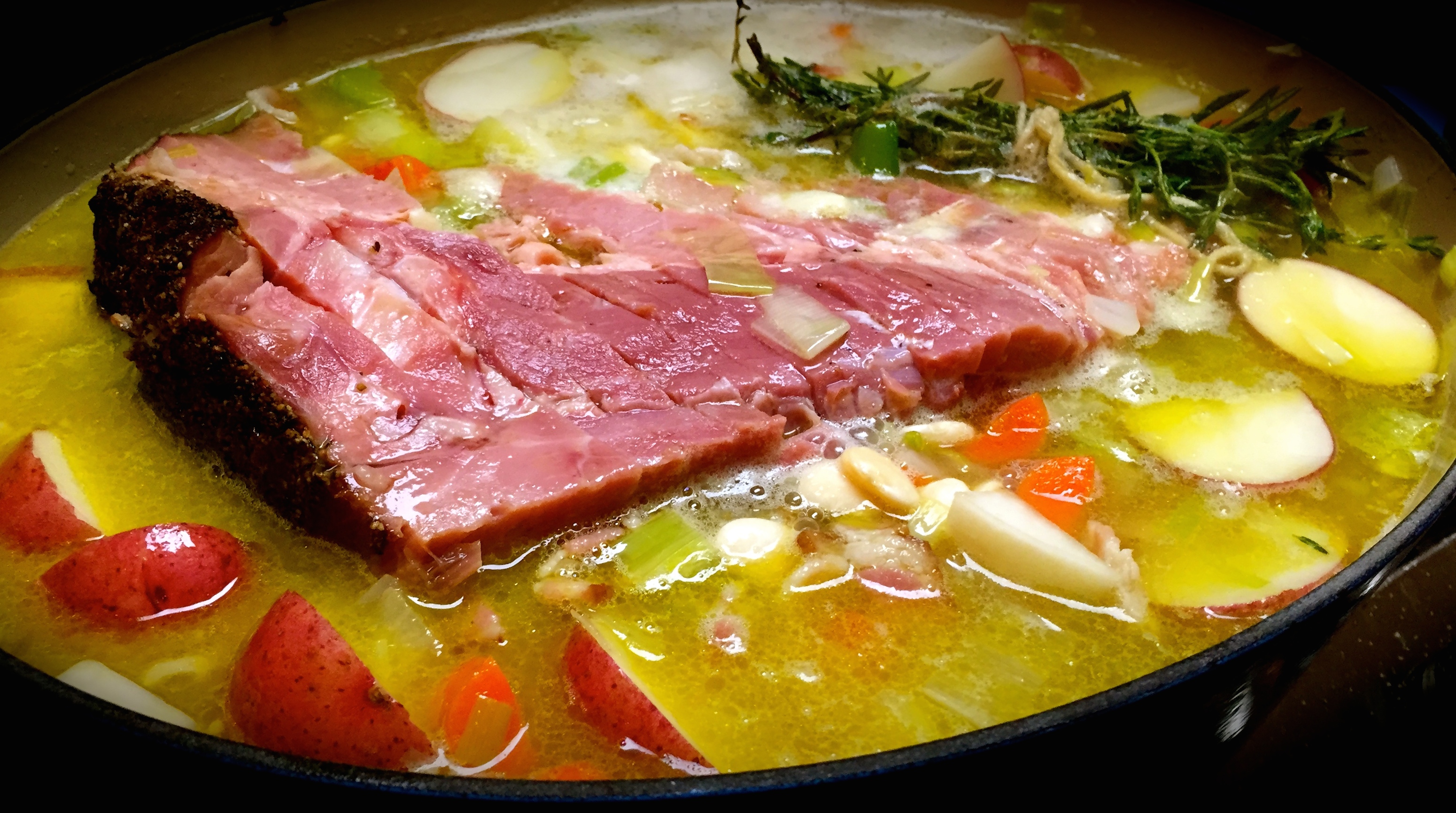 Remove the hambone and herb bouquet. Pull (or cut) the ham from the bone into bite-sized pieces and add back to the pot. Continue simmering the stew uncovered until it reaches your desired thickness. (Note: in France, this celebrated creation is not considered properly thickened unless a wooden spoon will stand on its own in the center of the pot).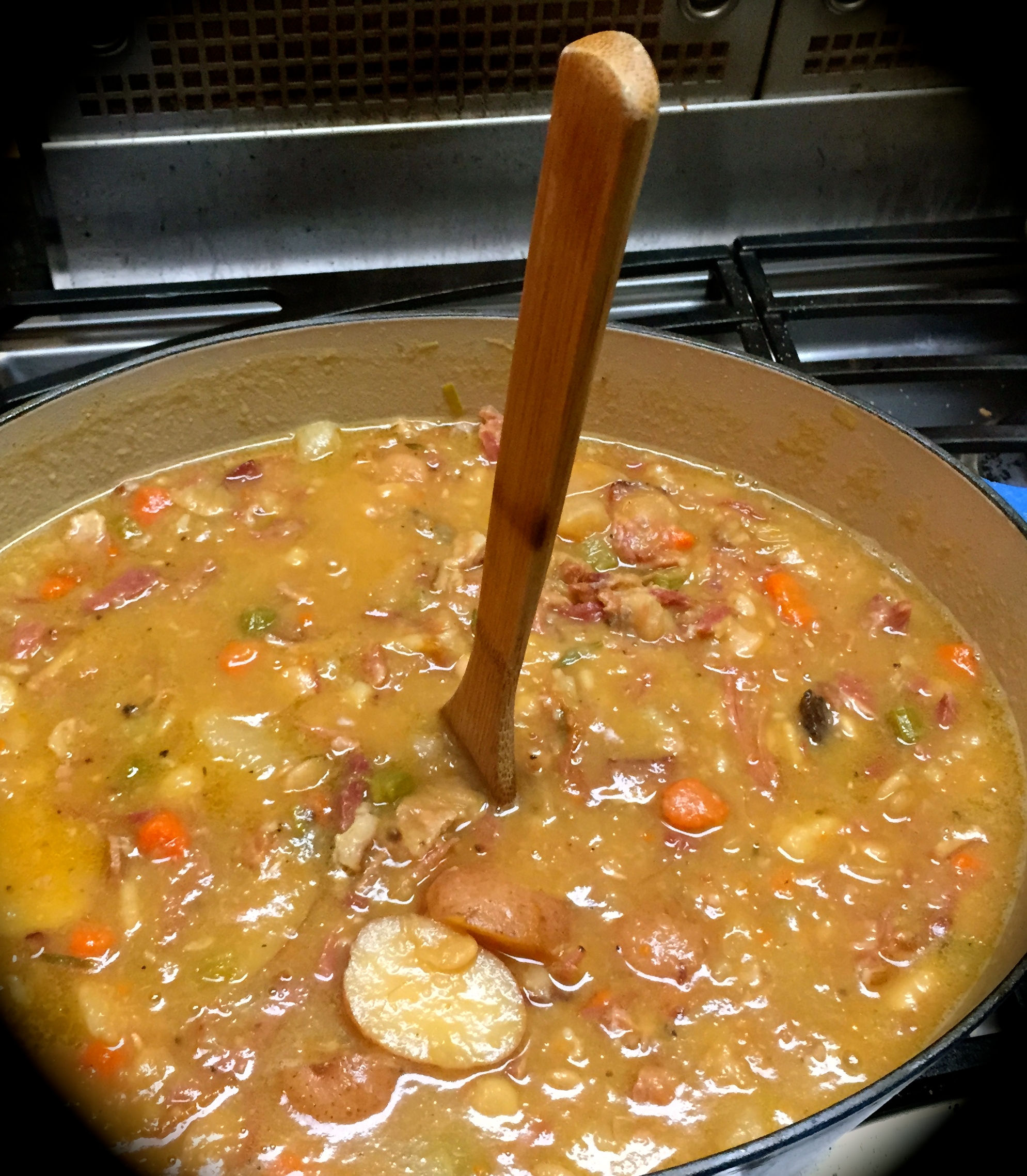 Season with kosher salt and black pepper to taste.
To make the Crustini, place the cheese slices on the french bread rounds and broil until the cheese is melted and the bread is toasted.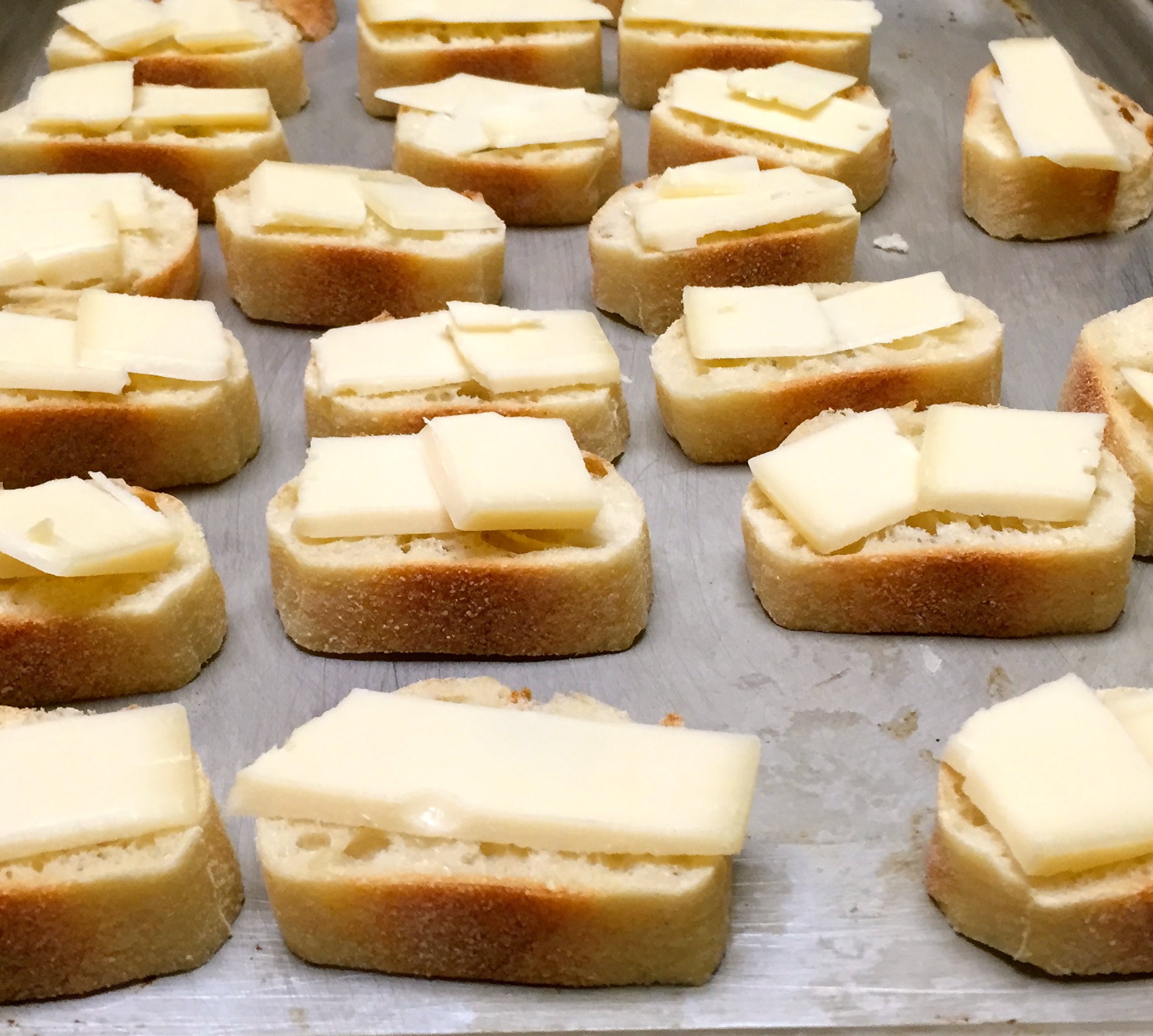 The stew can be enjoyed as soon as prepared but is better with a day or two of rest to allow the flavors to meld. It pairs well with a robust red wine, like a Bordeaux, and a cozy fire.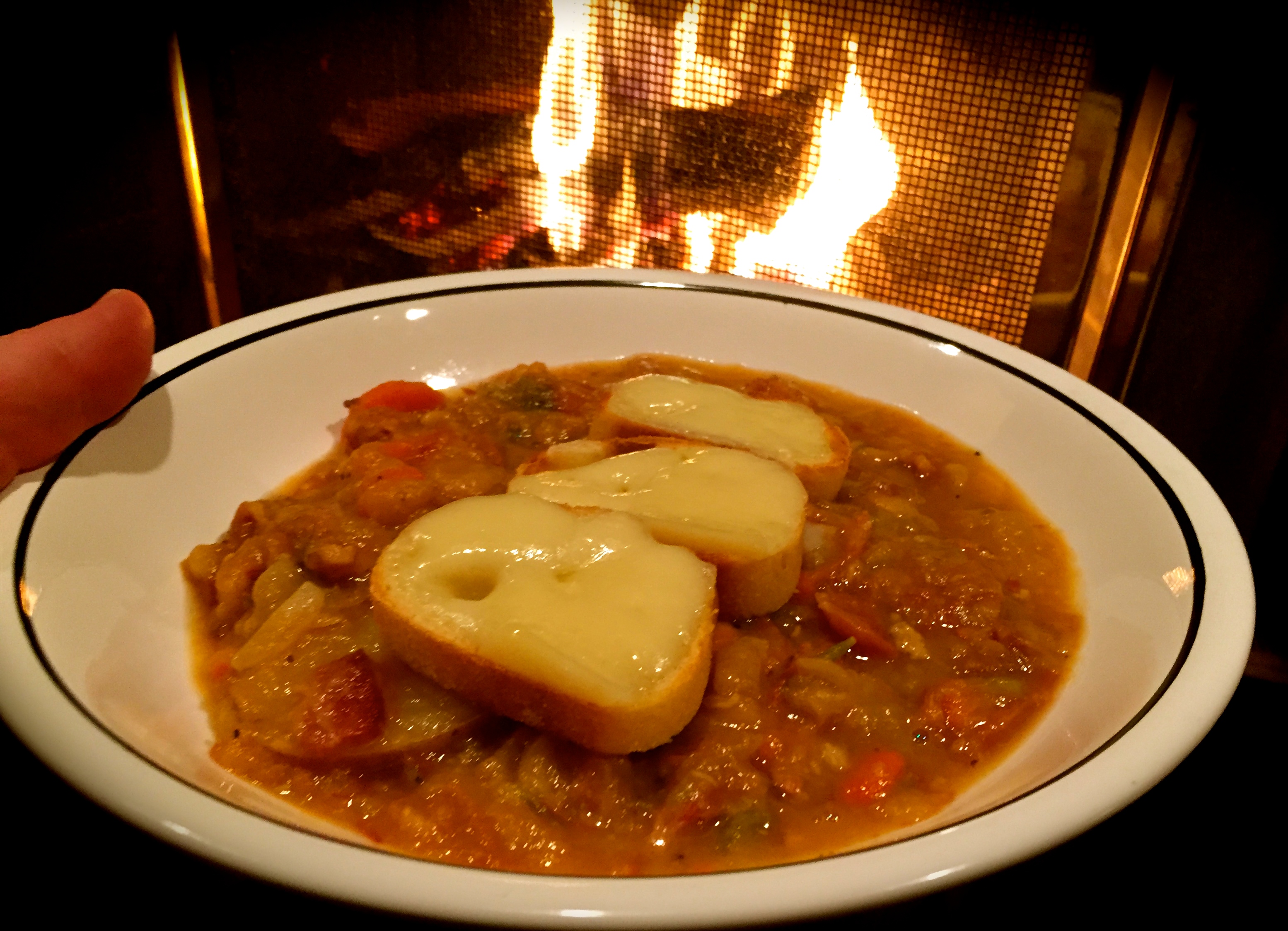 Merry Christmas, my friend.