Time to celebrate football and food —that's right, it's Super Bowl weekend!  And this year all of the talk is about the balls—must be rather deflating for the superstar players to be upstaged by a couple pounds of air.
Nevertheless, you know the story: the talking television heads are crying foul over the Patriots' deflated balls.  Apparently, deflation is contagious as I found myself less than inspired for this year's Super Bowl.  Luckily, the Daughter-of-Boar rallied my spirits and insisted that we create and eat —timeless remedy for deflation and many other ailments.
Embracing the spirit of this year's Super Bowl, let's celebrate the balls —fowl meatballs!
Now, let me say the idea of the fowl meatballs was not solely inspired by the cheesy pun (foul and fowl), for the Boar (like nearly everyone else this time of year) is working hard to lose a few extra pounds —but not so much as to lose my convivial image.  Of course, in keeping with my convivial nature I wrapped the meatballs in bacon —healthy eating is certainly enhanced by a crispy layer of pleasure.  Similarly, hitting the gym isn't so bad if you stick to the steam room and hot tub —don't bet against me this year, my friend, I may keep this up through the spring.
Bacon-Wrapped, Fowl Meatballs Glazed in Spicy Cranberry Chutney
Ingredients:
Ground turkey and chicken breast (I used about a pound of chicken and half pound of turkey because that was what was available at the store)
Red bell pepper (about half, diced finely)
Sweet onion (about half, diced finely)
Garlic (four to six cloves, diced finely)
Panko garlic and parmesan bread crumbs (half cup)
Eggs (two, beaten)
Oil (I used about two tablespoons of avocado oil)
Fresh sage (chopped finely)
Italian parsley (chopped finely)
Fresh thyme leaves
Kosher salt
Fresh black pepper
Chili powder (about two tablespoons)
Applewood bacon (slices cut in half)
Directions:
Mix everything together by hand making sure to incorporate all of the ingredients.  Then shape into balls (about the size of a golf ball).  Wrap each ball with a half slice of bacon using a toothpick or small skewer to secure.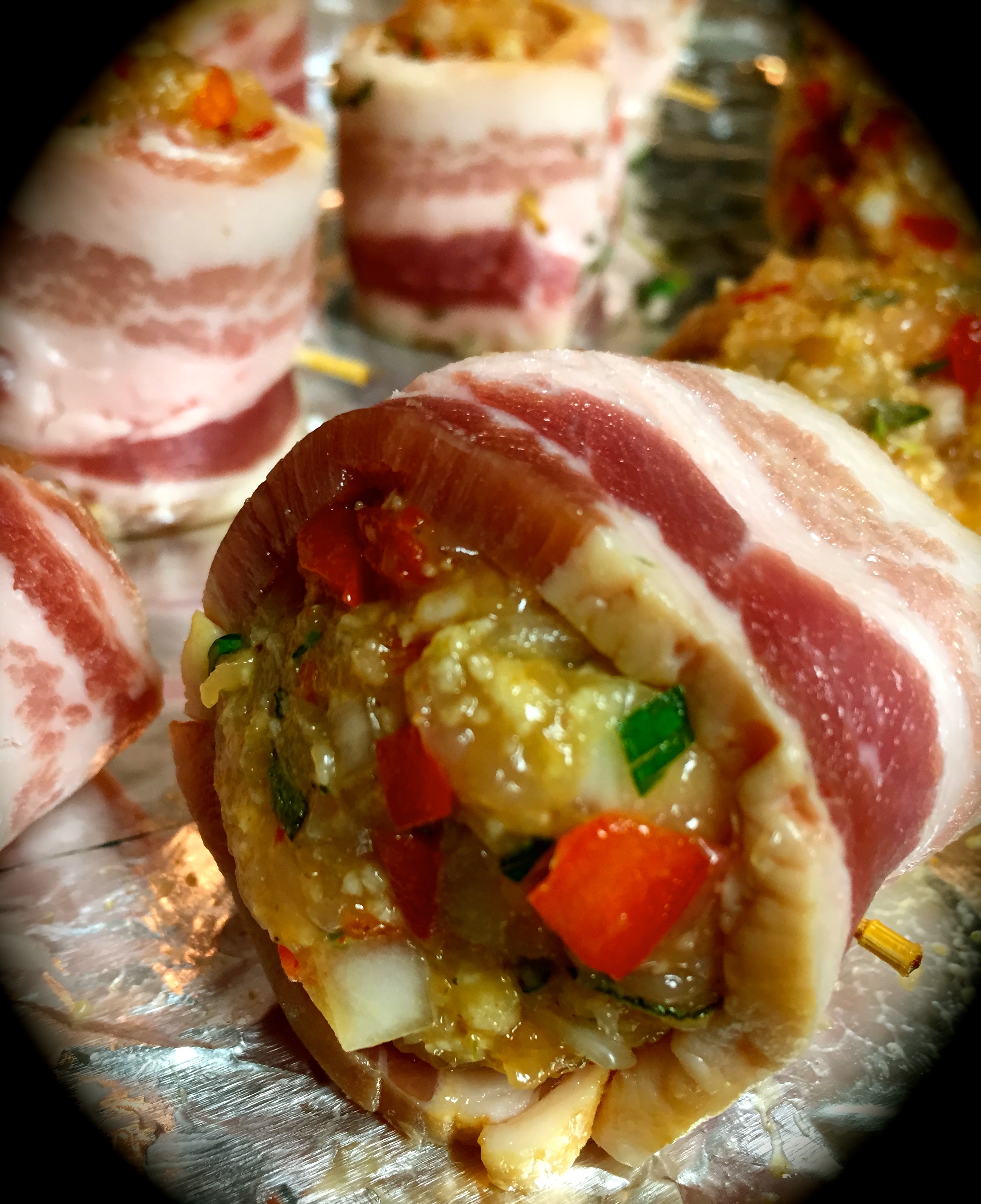 Preheat oven to 350 degrees.
Add enough oil to cover the bottom of a sauté pan and heat to medium-high.  Working in batches brown the meatballs (mostly the bacon).  Reserve the droppings in the sauté pan for the sauce.  Place the browned meatballs on a baking sheet and bake until done through (about forty minutes).
While the meatballs are cooking, make the Cranberry Chutney Glaze:
Ingredients:
Prepared cranberry chutney (I wanted to use fresh cranberries, but alas none were available at the market —even for ready money. Name that movie reference and receive accolades from the Boar).
Chicken broth
Red pepper flakes
Ground cloves
Ground ginger
Citrus zest (I used a clementine)
Directions:
Add the prepared cranberry chutney to the sauté pan used for browning the meatballs (you may want to remove some of the grease and droppings first, but keep enough to help flavor the sauce).  Heat over medium.  Add enough chicken broth to thin the chutney and whisk it together to incorporate.  Season with the red pepper flakes (I used about a tablespoon, but if you like it spicy add more), ground cloves, ground ginger and the citrus zest.
Bring the sauce to a low simmer and allow it to reduce to desired thickness.  I simmered my sauce for about thirty minutes.
Remove the meatballs from the oven.  Carefully remove the toothpicks and add the meatballs to the cranberry glaze rolling each several times to fully coat the meatballs.
I served the glazed meatballs with cheesy mashed potatoes and spooned additional glaze on top.
Morning After Omelet
Alas!  I ended up with more meatballs than would fit in my sauté pan (yet another Champagne problem, my friend–anybody keeping count of these?).  I left the extra meatballs unglazed and the next morning I diced them as a featured omelet ingredient.
Even if the game is a little flat this season, embrace the power of creating and eating.
Rally against deflation, my friend.